LOCATION – MULHOLLAND DRIVE LOOKOUT, CALIFORNIA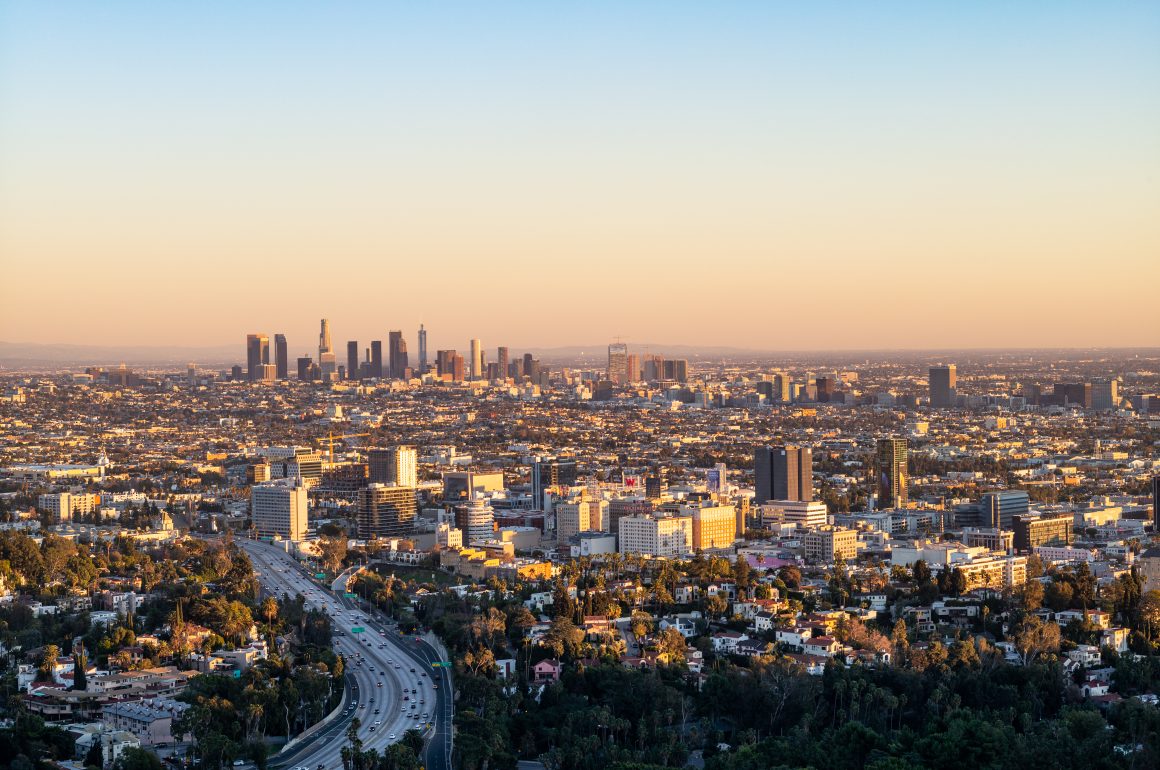 INTRO:
From up close, you'd be forgiven in thinking much of Los Angeles is made up of featureless bland box like buildings that sprawl in every direction. Without any major landmarks, apart from at best, the Hollywood Sign, the city is unlike many other major urban centers like London's Tower Bridge and Big Ben, Sydney's Opera House or Paris' Eiffel Tower.
This however does not mean there aren't some incredible locations to visit in LA. Hollywood Blvd, The Getty Center, Venice Beach and Disneyland just to name a few along with easy access to some of the most amazing beaches in Malibu, and National Parks like Joshua Tree, Sequoia and Yosemite all close by. LA serves as an amazing hub to hop between Theme Parks, movie studios, mountains, beaches, deserts and snow all within a day trip away.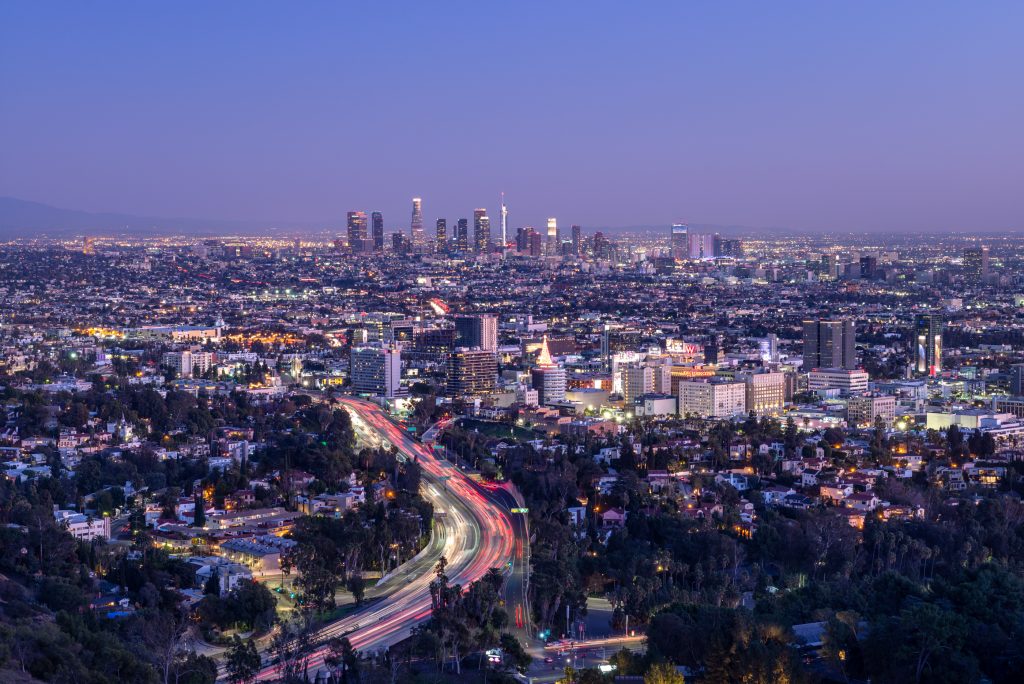 CONTENT:
There are also a number of gorgeous views of the city and surrounding areas, two of my favorite have already been featured here on Photo Basecamp; the Hollywood Observatory (HERE) and Angels Point in Elysian Park (HERE). The third option that I would add to this list is the Mulholland Scenic Lookout with its incredible view of downtown LA with the classic Californian highway (full of traffic as always) stretching from the foreground and winding its way off into the distance.
This location however also includes a great view of the Hollywood Bowl – an outdoor amphitheater built in 1929 that houses some of the best live music performances every summer. Well worth visiting if you are in LA at that time. My wife and I have seen a number of great shows there including Gershwin Jazz, a DreamWorks movie performance (which featured some of my animation!) and a number of films including the original Star Wars with a live orchestra.
Mulholland Drive started out as an idea to get the city people up into the mountains in 1924, and starts just west of the 101 highway and snakes its way through the Santa Monica mountains for 24 miles.
The most spectacular lookout point on this road, for me, is the Hollywood Bowl Scenic Overlook. Its has amazing views described above of downtown and of the Hollywood Bowl, but also includes a great view of the Hollywood sign and the Observatory (read about it HERE).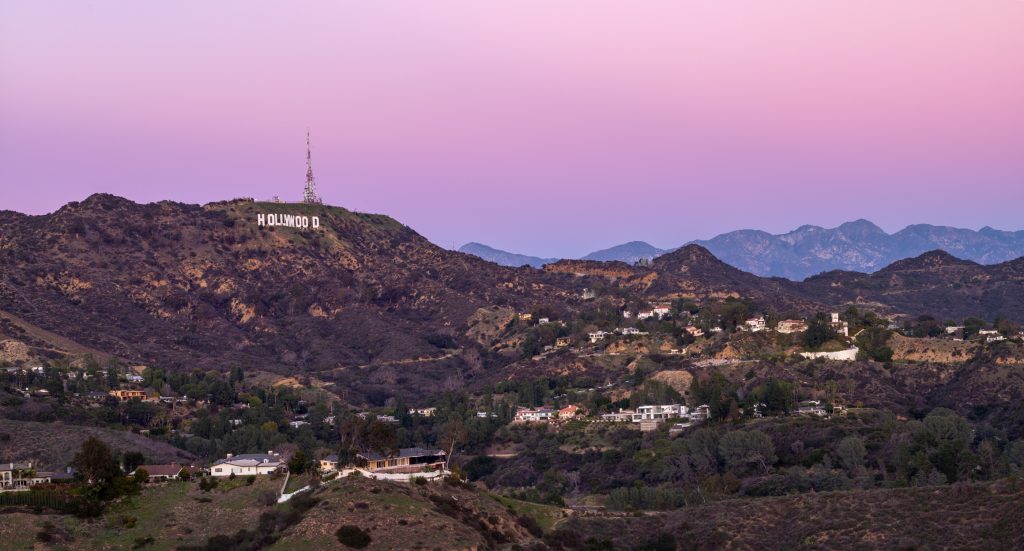 On a clear day (which sadly in LA is rare) you can see across the ocean all the way to Catalina Island. The great thing though, is that almost always you will be treated to an amazing sunset, and even if the air has the signature LA layer of smog, you will see get an incredible view and set of amazing photos.
The parking lot at the overlook is tiny, and can only fit approximately 7-10 cars. This, along with the stream of Hollywood tourist busses that seem to have it on their tour can make it very hard to get a parking spot. I would strongly suggest getting their early, and well before the sunset so that you don't miss it.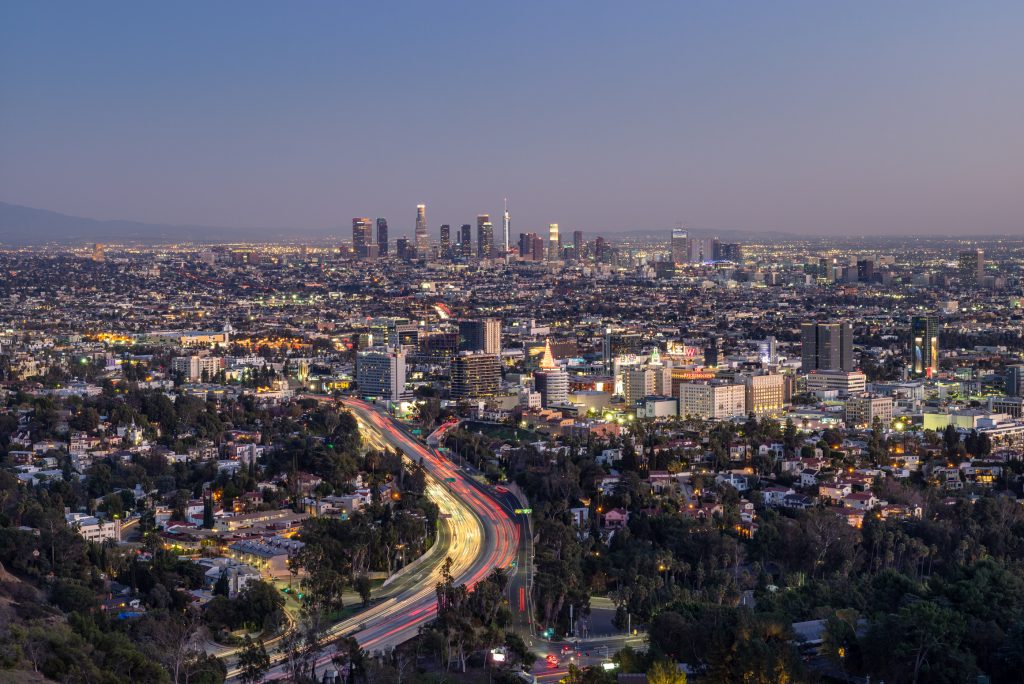 As always, the best spots for phots are not in the designated areas, so feel free to walk in front of the paved lookout spot as the clearing in the front offers much better and clearer views of both the city and the Hollywood sign.
The parking lot for the overlook is normally open from 6am to 9pm, so both sunset and sunrise are equally great options. I've yet to do a sunrise, and I am guessing its much quieter and probably a much better time to go without the crowds.
So if you want that classic view of Los Angeles, I'd highly recommend visiting the Hollywood Bowl Scenic Overlook on Mulholland Drive.
LOCATION IMAGES:
[envira-gallery id="12142″]