OUR GEAR
MIKE'S EQUIPMENT
Like most photographers, Mike loves shiny new gear! Here is what he is currently using:
Leica M-P 240 (black paint)
I love the Leica M. I spend almost all day working on computers doing 3D animation so I decided I wanted a camera that took me back to basics and removed as many of the menu's and digital feel of a digital camera. The Leica answered that for me. The build quality, size and look of the photos from this camera really speak to me. It is a joy to use and it's all manual, which really slows me down and makes me think about the exposure and composition a lot more.
Fuji X100T
I acquired this camera about a year before I purchased the Leica and it really set me on the path towards the all manual rangefinder. I loved the compact, well-built fixed focal length camera (23mm with cropped sensor, making it 35mm equivalent). It's such a fun and easy to carry little camera, which I still really enjoy using and I particularly love the colors it creates with the Fuji x-trans sensor.
Canon FTb with 50mm f1.7 lens
Inherited from my Grandfather, I received this old Canon film camera as a gift which I am only more recently rediscovering the fun of film. Similar to the Leica being all manual, but with a prism based focusing window instead of a rangefinder, I love the disconnection and surprise of getting the developed film back. Expect to see lots more photos from this camera as I play with different film types, developing and printing methods.
Leica 35mm Summilux 1.4 FLE lens
I've never been a big fan of zoom lenses, to me creativity comes from restrictions. The challenge of a fixed focal length is something that I really enjoy. The 35mm focal length is perfect for me, not too wide, but wide enough to capture the subjects surroundings, which suits my style of photography. A fast lens with shallow depth of field, while staying super sharp, is a signature of Leica that gives images a 3D pop and depth which I love. I use this lens about 70-80% of the time exclusively.
Leica 21mm Super Elmar lens
The Super Elmar lens is not overly fast at f3.4, but makes up for it with incredible sharpness from corner to corner. Very small and lightweight, it's a great lens for both architecture and landscape photography which makes up most of my photo endeavours. Since the rangefinder on the Leica M does not support 21mm, I tend to use the EVF2 to help frame my shots.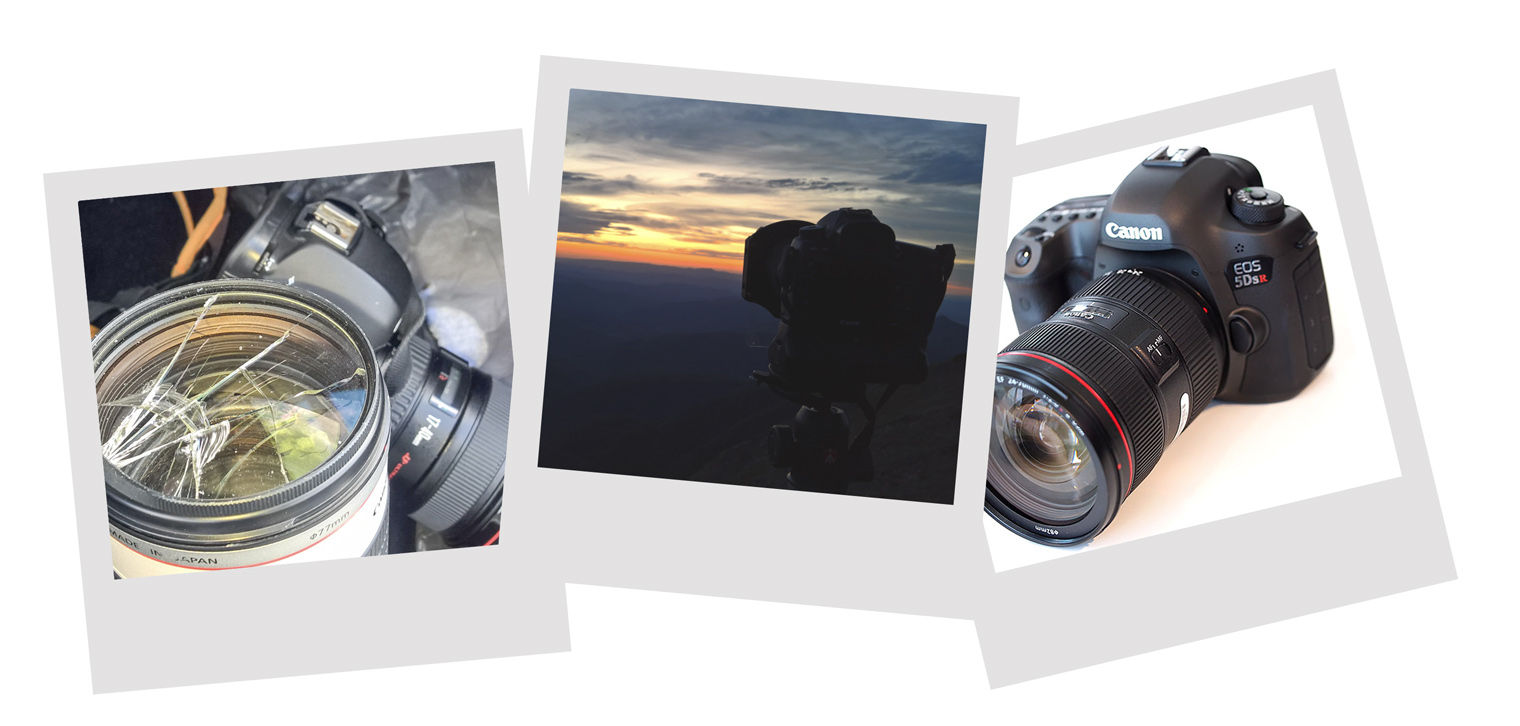 Canon 5Ds R
A reasonably new addition to my arsenal, this is a camera that is making a massive difference for me. Using 50mp gives me the ability to crop into images with the same quality of a normal 22mp camera. So shooting sport it's effectively more zoom. For stock imagery, it makes for sharper images that pass critiquing. This is my go to camera for high quality imagery.
Canon 5D3
My workhorse for some 5 years, and now my backup camera. Solid and reliable, it does a great job being swung over my left shoulder walking thru crowded festivals.
Canon 400D
How could I not include this? It was my first DSLR and a gift for our wedding from my beautiful wife. Rarely used now, except for a second shooter at weddings. It's worth nothing on eBay, compared to how good it is in the hands of a good photographer. Plus obviously sentimental value.
Prime Lenses
– Canon EF 50mm f/1.4 USM Lens
– Canon EF 100mm f/2.8 USM Macro Lens
I love my primes. I'd like more in fact. It's the simplicity of them as much as anything. The 50mm on a 5D with a grip has a beautiful balance and weight that makes you feel like you're guaranteed a great shot. I've had some days travelling where I have forced myself to use this. One might think that you would end up missing shots, but for some reason I've never regretted it. Shooting around F2 in a busy Balinese St is great fun and very unobtrusive.
I have kept my 100mm for the rare occasion that I might end up in a butterfly house or I may want to shoot a flower. It's useful to have around and is possibly the sharpest lens I own, especially when you nail the aperture and light.
Zoom Lenses
– Canon EF 16-35mm f/4L IS USM Lens
– Canon EF 24-70mm f/2.8L USM Lens
– Canon EF 70-200mm f/2.8L IS II USM Lens
– Canon EF 100-400mm f/4.5-5.6L IS II USM
I am happy with my zoom lens collection, with the exception of a dedicated sports lens such as the excellent Canon EF 200-400mm f/4L IS. My Canon EF 100-400mm is a superb value zoom lens that does very well at sport in brighter light. I have taken this lens travelling and have been able to pick up wildlife in the distance beautifully and easily.
The Canon EF 16-35mm f/4L is my current favourite lens. It is the sharpest lens I have used and is quite stunning corner to corner for landscape photography. Shooting with this lens on Canon 5DsR is something to behold. A 1×1 crop contains a superb amount of detail that for some can make images look almost 3D.
The Canon EF 24-70mm f/2.8L is still my go to event lens. Low light, quick focus and sharp, it's been my work horse for 8 years now.
Everyone should own a Canon EF 70-200mm f/2.8L. A supremely versatile and robust lens that is extremely sharp. I literally use this in some way for all genres of photography. Great for travel, great for sport, great for events. It is for portrait that I use it the most. A lovely zoom range and great bokeh with lots of sharpness in low light. What isn't there to love?
Battery Grips
I insist on using battery grips. I love the feel, the balance of the camera (especially with 50mm prime) and double battery life. What's not to like?
Tripod
– Manfrotto 190XProB
Sure I've lusted over carbon tripods for years but for some reason I've never bought one. This tripod is strong and sturdy. It compacts down to my suitcase and extends to my 188cm height. This tripod has literally been across the globe 10 times.
Filters
– Hoya Pro1D Polariser, ND 4 and UV filters
– Hitech 100 Filter System ND Grads
I don't get too much into filters other than buy the best you can afford. I believe the cheap filters are poor and the expensive ones are a rip off. So find something in between. There is no point buying thousands of dollars of glass to then put poor filter in front and lose sharpness. I have never had issues with Hoya Pro1D filters.
Flashes
– Canon 600EX II RT
– Canon 580 EX
– Cactus V5 Duo Wireless System
Flashes are hugely important so don't compromise. They are workhorses. They need to be reliable and long lasting as they cost a lot. I use these two flashes for any corporate work.