LOCATION – UNION STATON, LOS ANGELES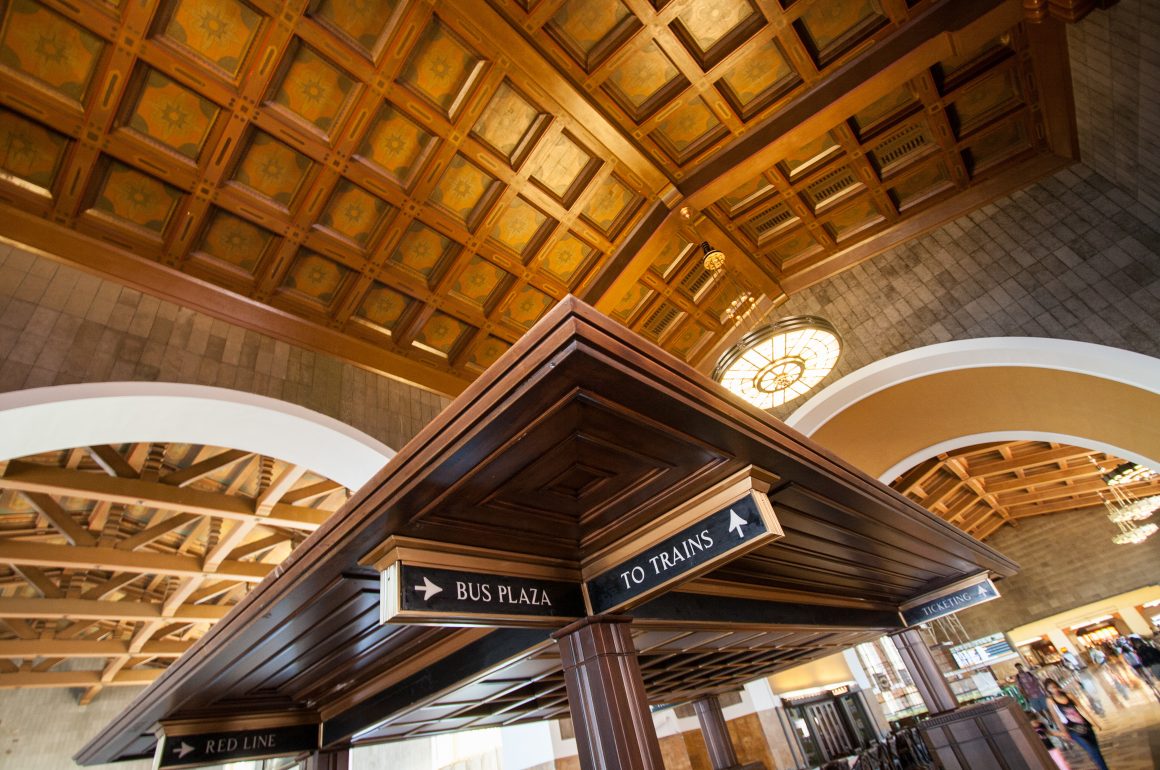 INTRO:
Los Angeles Union Station is the major central Downtown train depot for the city. It was built in the 1930's and is an amazing mixture of Art Deco, Streamline Moderne and Mission architecture.
The design of the building makes it great to photograph both inside and out. There are so many beautiful details including the interesting lighting, coming from both the large circular chandeliers and huge floor to ceiling windows. These features all combine to create a very exciting and fun location to explore and photograph.
ESSENTIALS:
CONTENT:
The building can be split into four distinct locations:
The Exterior which is influenced by Spanish and Mission based design. Along with some great wooden doors and signage to photograph for more detailed studies.
The Art Deco interior of the main entranceway. The original Ticket Lobby is closed off from the public, but still quite easy to get photographs of. The waiting room however is fully accessible along with the restaurants and cafes.
The train platforms are more of the normal traditional design. Access requires a ticket, and is a section I have yet to fully explore and photograph in detail.
Large dome section in the back of the station which houses a huge stained glass dome and mural designed by an LA artist who also has another mural in the Capitol Records Building.
The first time I visited the station I was able to take a tripod, which was useful due to the low light conditions in some areas. However, on further visits I have been spoken too by security when carrying or using a tripod. This seems mostly to ensure the photos are not for commercial purposes. My experience has been varied with some security personal happy to allow me to use it (and normally they think the Leica is an old film camera and quickly dismiss it) and other times I have been told to stop using the tripod no matter my explanation. Its worth taking and trying your luck, or using a high speed prime lens or higher levels of ISO if you don't want the trouble!
It is also a great place to people watch and photograph. Travellers of all types pass through the station building. The waiting room includes the original furniture, along with other great details like a piano, shoeshine and cafes.
Whilst you are in Downtown LA, make sure you check out the other great locations near by! Read my Downtown LA Photo Walk article for more exciting locations (coming soon!)
Location Images
[envira-gallery id="8714″]