A ROLL OF WOLFMAN – MINI FILM REVIEW
One of the fun parts of shooting with film is being able to experiment with different film stocks. With the increase in popularity of film over the last few years, there has been some really interesting and exciting film resurrections and new releases.
The Film Photography Project (FPP) is a great online resource including a blog, youtube channel and in person photo walk organizer, who, in the last few years has released a few very fun themed films for Halloween including last years Dracula and this years Wolfman film stocks in both 35mm and 120 formats.
Said to be inspired by the classic Universal monsters films, which I love, it was a film I was excited to try out.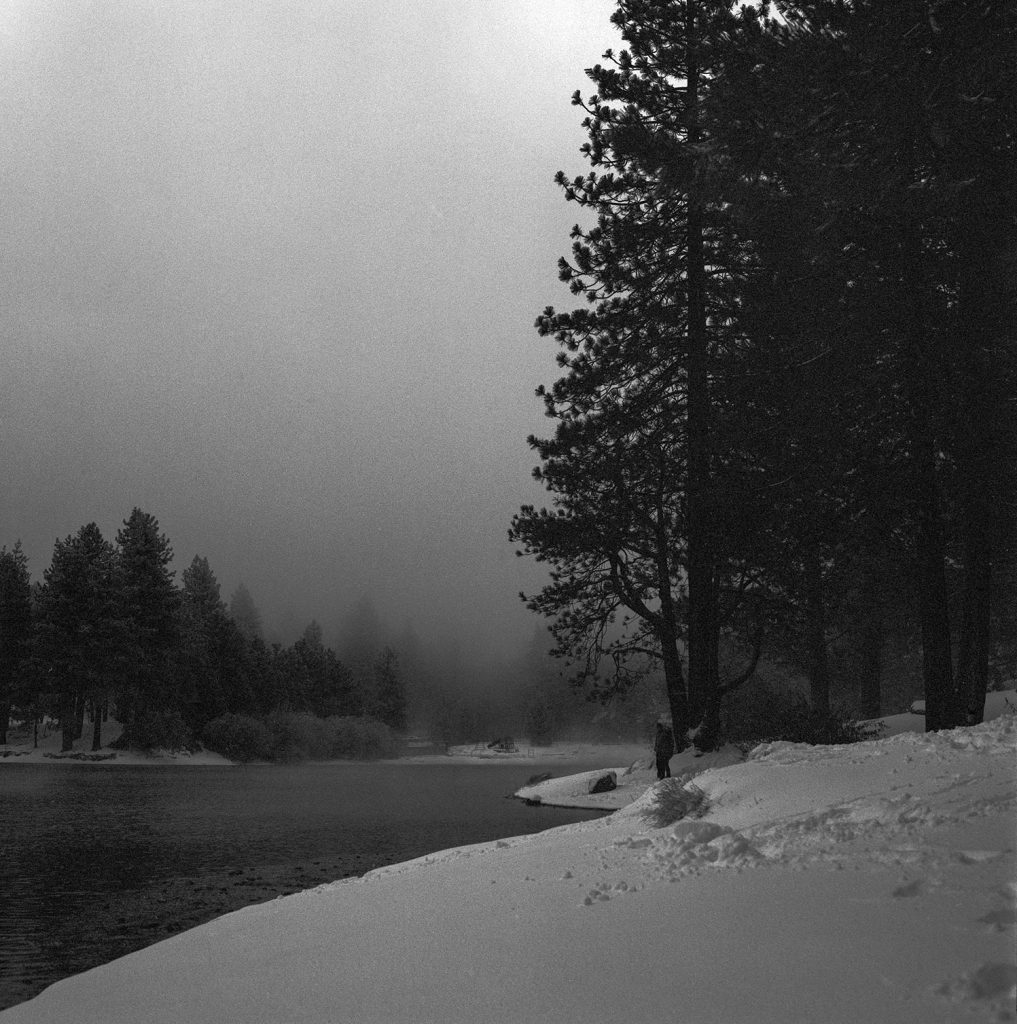 A lot of the photos I have seen online were mostly spooky portraits. These looked fun, but I thought it would be good to test out in the 120 format in my Hasselblad 503cw and shoot some foggy landscapes to capture that dreary, dark and creepy feeling of the wide establishing shots to Castle Frankenstein or Count Dracula's mansion on top of the hill.
We had a big snow storm hit at our cabin in Lake Arrowhead over the winter holiday break, so I rugged up and looked for some fun locations to capture that feeling.
The film is 100 ASA, so its not super grainy, but I did find it much grainier that other low speed films. For me, this was fine as it helps add to the atmosphere and feeling you are going for with a creepy vibe.
I shoot with a Sekonic light meter and then to meter for both the shadows and highlights to get an average, especially in the snow as I want to ensure I am getting both good shadow and highlight details.
The film once developed is very thin, the overall stock feels very light and about half the weight of Ilford or Kodak alternatives. It dried with a lot of roll along the length which made it a little annoying for scanning, but still much easier than films like Cinestill that is super curly.
I scan my film with an Epson V850 and the Silverfast 8 Pro software. There are of course no presets for this film, so I left it off and adjusted to taste. I try to keep my film scanning rather neutral as I like to see the look of the film shine. I opened lots of film stills from Wolfman, Dracula and Frankenstein in Google images and used those as reference for the editing.
Overall, I did not find the film very sharp. Whilst I was out that early morning, I had two film backs loaded, one with Wolfman and the other with Ilford HP5+. The Ilford film was much, much sharper. I don't mind this as long as you know going in, its not going to be the highest resolving film, but it certainly creates a very unique look that I think is in-keeping with the theme.
I'm interested to try shooting this film, and the Dracula counterpart in 35mm (the XPAN could be great for this) as well to see what results I can archive with that. I feel like this would be a fantastic film to shoot on a cold, foggy night in the dark and tiny alleys of London.
If you have shot with this film, let me know! I would love to hear from you and see more examples taken with this film.