LOCATION – LAKE TEKAPO, NEW ZEALAND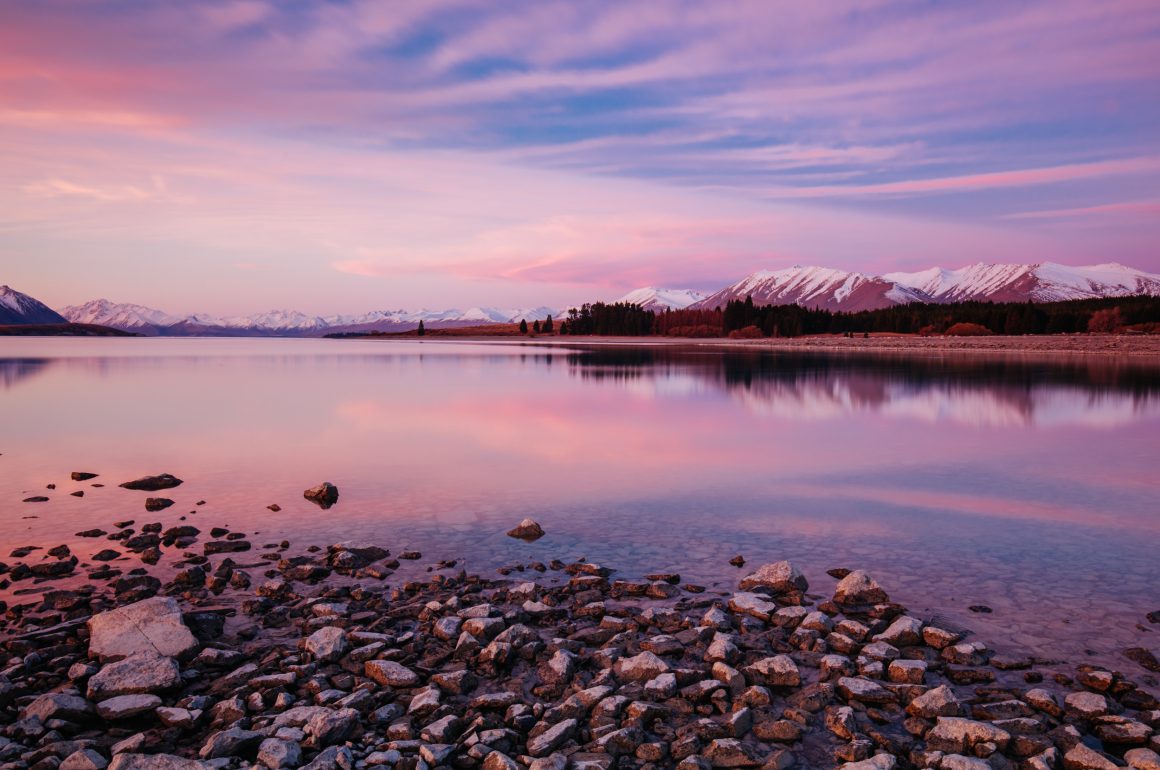 Intro
Lake Tekapo is situated 3-4 hrs drive south of Christchurch on New Zealand's south island. It is a stunning location, famous for its blue lake, reflections and the Church of the Good Sheperd. This Church is one of the most iconic locations in NZ and a highly Instagrammed spot.
We recently visited here in springtime, which is a great time to visit as there is still plenty of snow on the surrounding mountains but also its a bit warmer and better weather. It is not until December however that the famous lupin flowers come into bloom. I have seen these on another trip and they are picturesque against the lake but very little snow. A fair trade off!
The town of Tekapo itself is pretty uninspiring. It is built entirely around the lake, church and star gazing tours. All of these are great of course, but its very much a tourist town setup to cope with bus loads of tourists.
Essentials
Camera Gear Used
Canon 5DsR
Canon EF 70-200mm f/2.8L IS II USM Lens
Canon EF 16-35mm f/4L IS USM Lens
Hoya Pro1D Polariser
Hoya ND8
Manfrotto 190XProB Tripod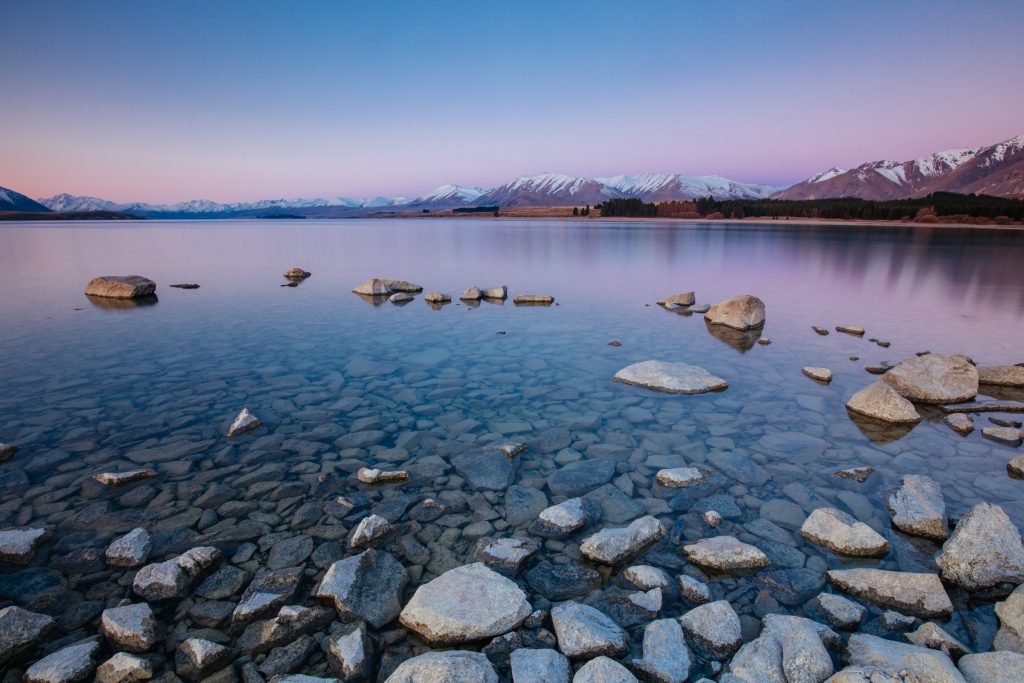 Content
If you are driving near the middle of the day, upon first sight, you will be amazed by the blue colour of the water in Lake Tekapo. It is impossibly blue and picture perfect. A great simple spot to capture this is from the road bridge shooting towards the pedestrian bridge and lake.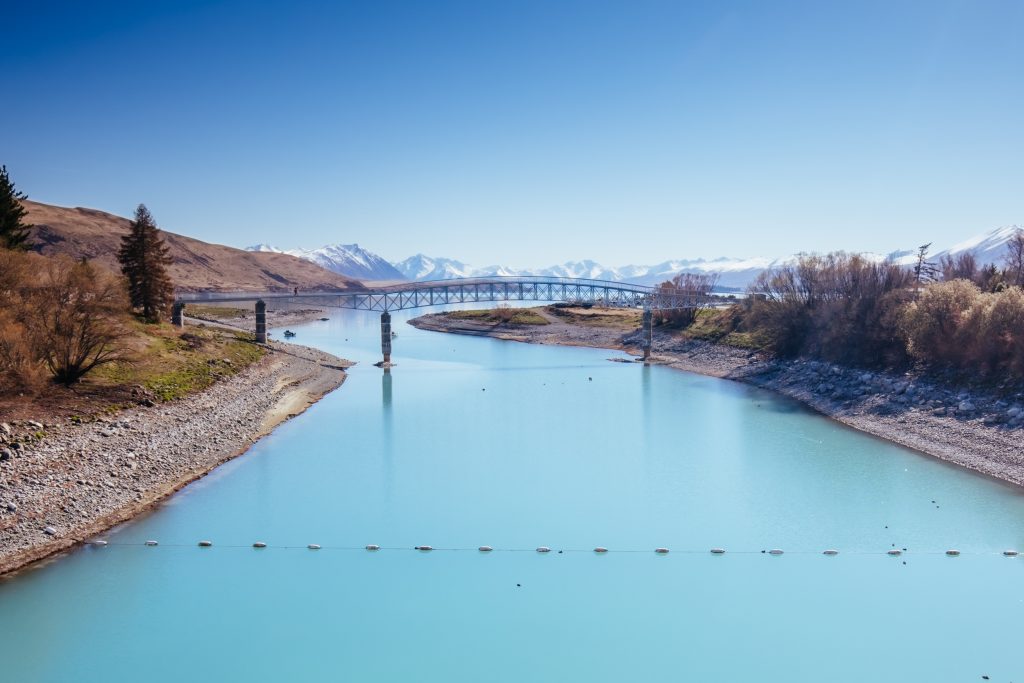 One doesnt have to go far to get some great shots of the lake and anywhere in front of the church worked for me. I spent some time looking for nice compositions of rocks. To get the blue lake colour, then one must shoot away from sunrise and sunset. It requires a higher sun to make the blue sparkle.
In my trip here I concentrated mostly on lake shots. Keen to capture the snow capped mountains and the tranquility. Its not hard to walk around and quickly take various shots. For sunrise the sun rises right in front of you so walking to the east and shooting westwards a bit more is preferable. For sunset the sun is behind you and creates beautiful colours as seen below: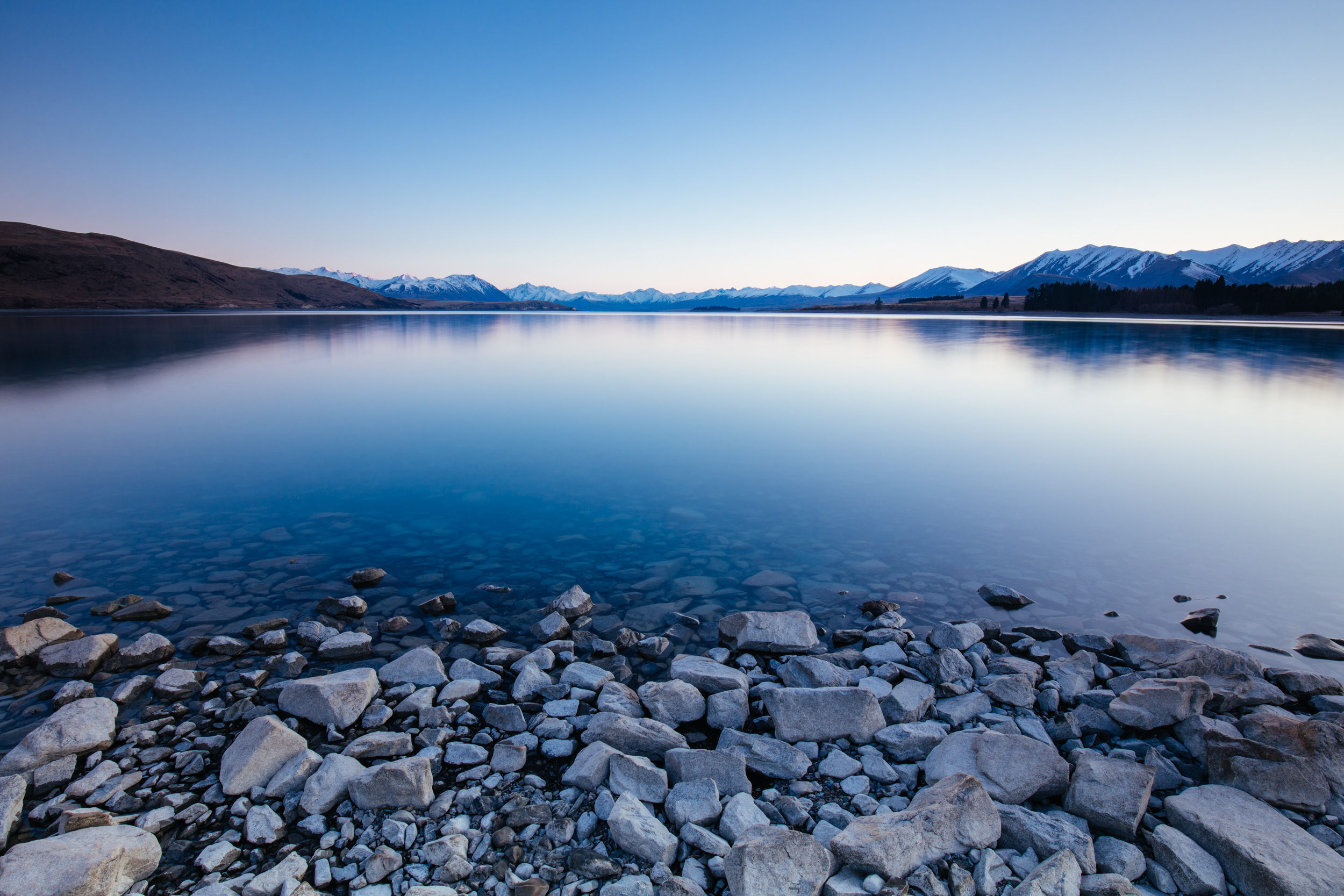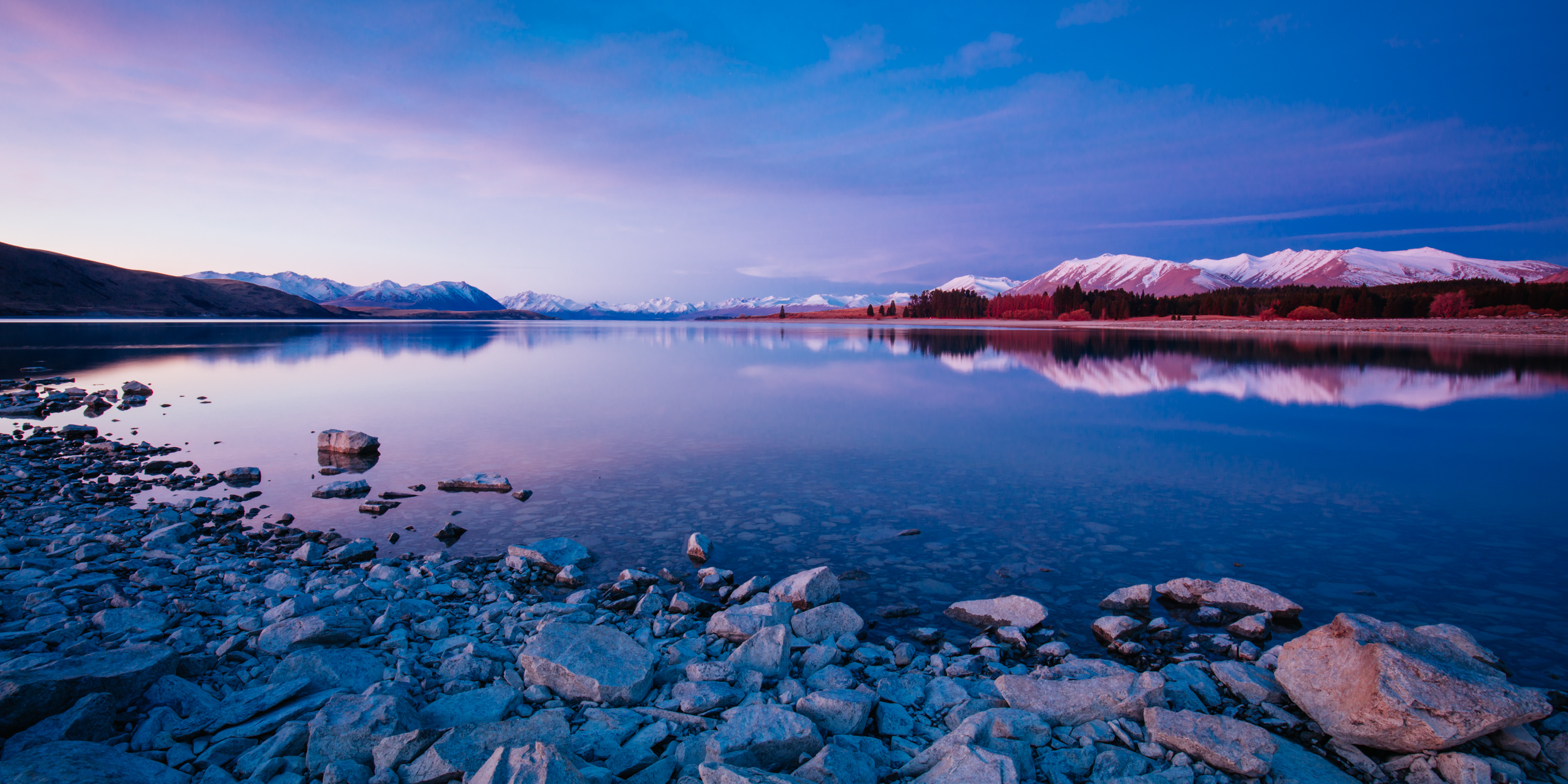 Church of the Good Sheperd
As mentioned previously, this church is one of the most iconic buildings in NZ and for good reason. A wonderfully quaint historic building with lake and snowcapped mountains behind. It is therefore a tourist nightmare. Bus after bus of tourists clamber over each other to get selfies and I hate this with a passion. In fact it is now closed in night hours to protect the building as people were actually climbing to get photos. Therefore I chose to 'ignore' this shot as it was so cliched and i prefer the serenity of the lake. However its lure got me and I was happy with the shots I did get out of popular hours.
The sun sets in front of the church which can cast a magical light. Well after sunset, and after gates close, my daughter found a large mound of dirt and we were able to easily climb and I shot with a 70-200mm. This gave the perfect perspective with the backdrop and we had just enough light to showcase the scene. This can be seen below:
The following morning, I dragged my daughter down for some more shooting and once again I was attracted to the church scene. At sunrise there was not a person around and this was a beautiful experience. The sun rises behind the church which plays havoc with the lighting but interesting sun flares can be achieved easily.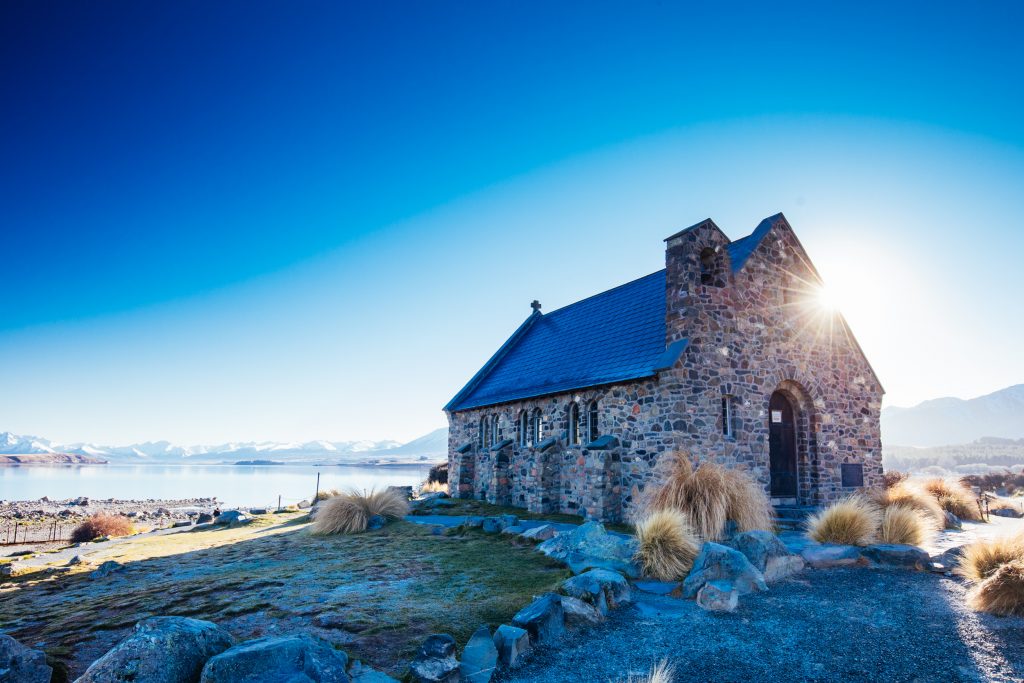 Mt John Observatory Walk
One of the absolute highlights was the steep walk to Mt John Observatory. One can drive but that would be lazy, plus the car park shuts early. I went up in the late afternoon and the light was stunning across the fields below. I was surprised that I found the view of Lake Alexandrina more impressive than of Lake Tekapo. As seen in image below.
There are some great zoom shots to be had of the surrounding mountains and of Lake Tekapo. Plus in the cafe, is the best ice cream I think ive ever had. Lewis Road Chocolate. It was next level and worth the walk alone.
I wasnt up here for sunset as I had retreated back to the lake shore but the view would be amazing of the sunset, even though its away from the lakes. If you had limited time, I would however to shoot the lake back in town.