LOCATION – CRADLE MOUNTAIN, TASMANIA, AUSTRALIA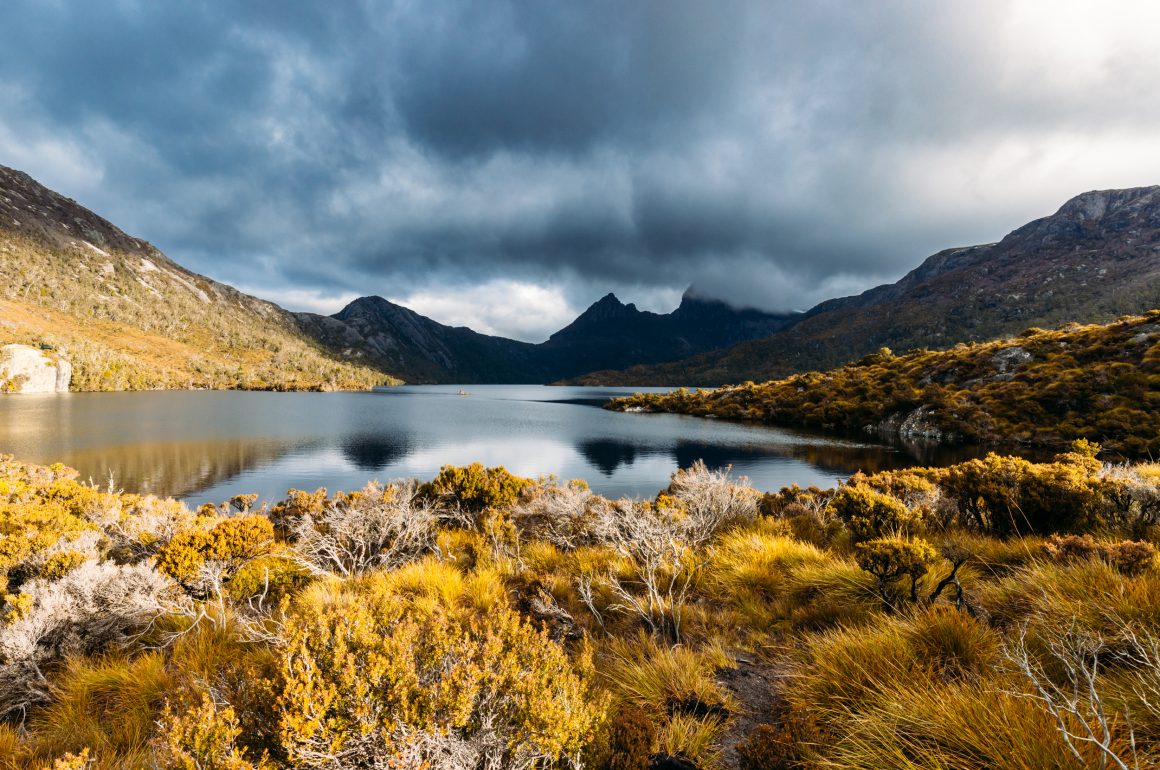 Intro
My first visit to Cradle Mountain really helped to form my love of landscape photography. In particular landscape photography. I vividly remember sitting at Dove Lake one sunrise with another photographer from Queensland, Australia. He spoke about his love of Tasmania and the soft light seen. In Queensland the light is much harsher due to proximity to the equator and lack of seasons. But it was one quote that really stuck for me. 'Its all about the quality of light. The photo is nothing without that'. I had read many books and magazines up to that point, but it took a real person to instill the obvious.
Essentials
Camera Gear Used
Canon EOS 5D (in 2009)
Canon EOS R5
Canon EF 16-35mm f/4L IS USM Lens
Hoya Pro1D Polariser
Hoya 4 stop ND
Manfrotto 190XProB Tripod
Content
Cradle Mountain is situated in the Lake St Clair National Park about an easy 1.25 hrs drive south of Devonport. I first visited in 2009 and fell in love with the area. A recent family holiday presented me finally with the chance to visit Cradle Mountain again. Albeit very quickly.
For this recent trip, I had two days of travelling to and from the Spirit of Tasmania ferry with my eldest daughter and we absolutely wanted to see Cradle Mountain. On a personal level, I really wanted to experience it again with my daughter. Especially as I bought her a Canon 400D camera recently to start teaching her the joys of photography. She is fantastic company on our field trips and whilst she likes taking photos, I think she just loves 1:1 time more than anything. I'm always impressed at her patience as I stop the car for the 74th time to take another 'shot of the day'.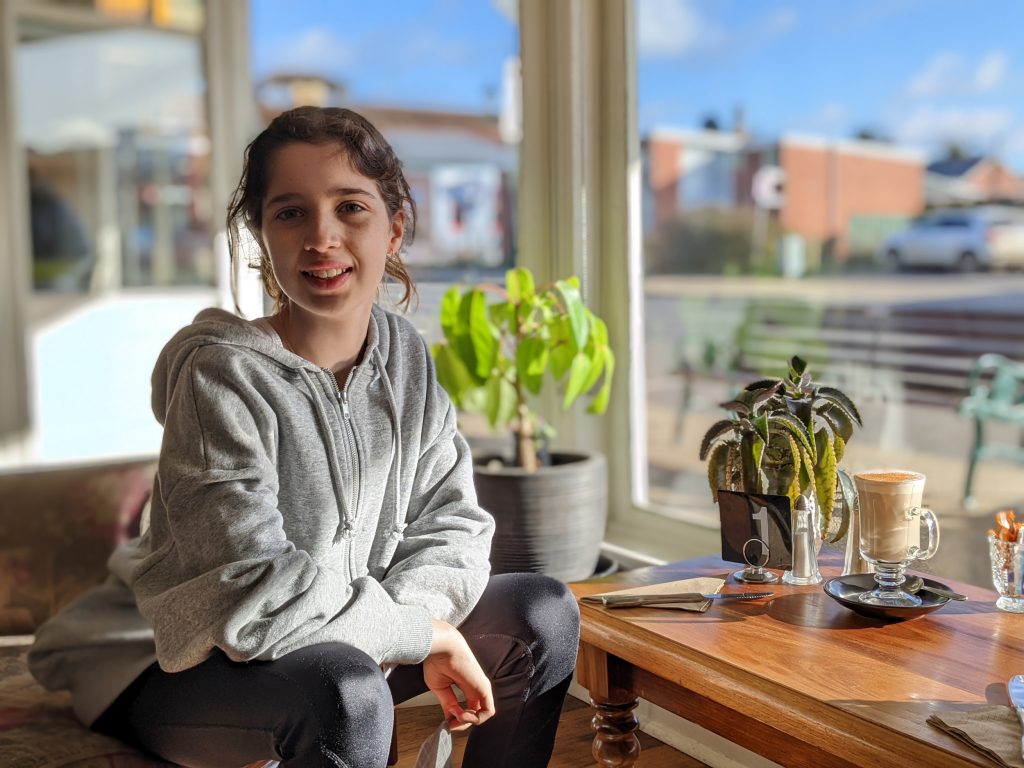 The first day of our travelling in Tasmania presented us with the most amazing snow storm, which always gets me rather excited. I checked the webcams an unhealthy number of times as we exited the ferry at 6am and just saw complete cloud cover. For the detour we had to make, it wasn't worth the time investment with a deadline to be in Hobart by 6pm. One day later would have been perfect blue skies with snow covered land. Thats the way it rolls. For our return trip we made the commitment that rain, hail or shine we would go to Cradle Country.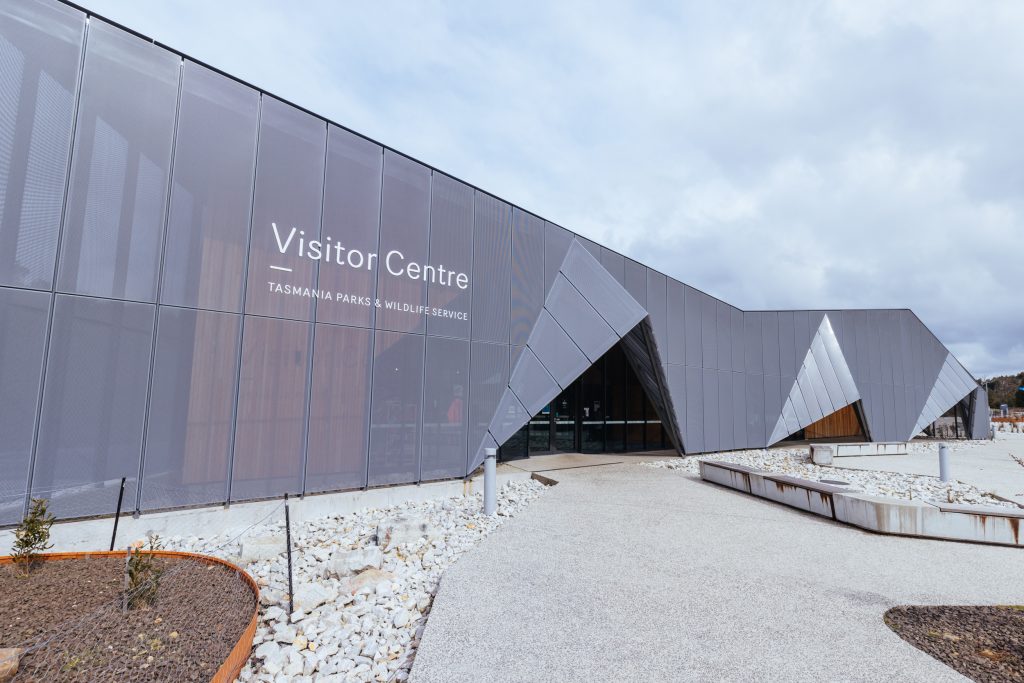 After a couple of hrs of driving in constant rain, we arrived at the brand new visitor centre. This is a fantastic addition to the park and well worth a look around. The car park is huge with many bus areas also. We visited in September and it was nice and quiet, but clearly in summer it is a different story. In 2009 the park was open to the public to drive anywhere but now it is very different. The road to Dove Lake, where most of the walks begin, is narrow and windy and there are many animals in the area. For this reason there is now a shuttle service that runs most of the day and is very efficient. You are required to have a Tasmania Parks Pass and you get a free shuttle pass from the visitor centre. For photographers this presents a dilemma. In our trip we had limited time, and the buses worked well. For sunrise and sunset you will need to plan and as of Oct 2022 you can drive in outside of bus hrs. But I strongly urge you to check the website for the finer details.
Cradle Mountain and 'Cradle Country' as the area is known, is a vast alpine landscape most well known for its Overland Track, which is a 65km and 6 day hike. Personally I have only scratched the surface of the hiking opportunities with Dove Lake Circuit and Lake Lilla my only longer walks. Something I desperately want to change. So to be upfront this guide is not a 'everything you can see at Cradle Mountain' type guide. That would be almost impossible. But I hope the content here does help.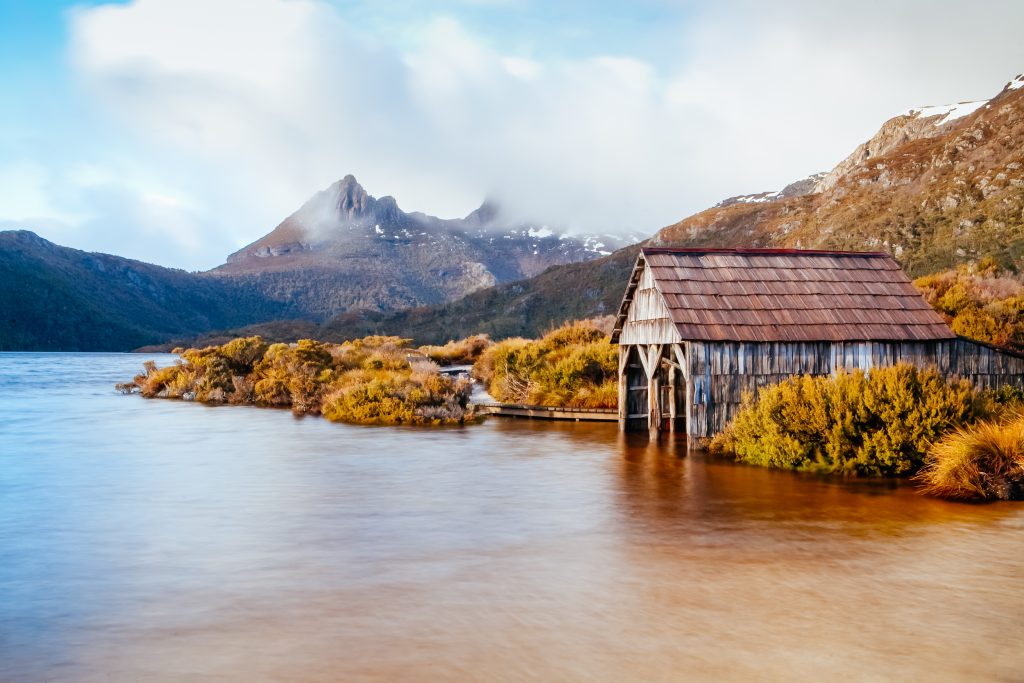 The most obvious place to head to is Dove Lake. It is the most iconic spot to get the grand view of Cradle Mountain and surrounding landscape. The shot above was taken near sunrise in 2009 when a very short burst of light gave some quality to the image. As any local would know, Cradle Mountain is a fickle beast weather wise. I once heard a stat that only 1 in 10 days are clear there and this is supported by the evidence of my trips there!
The image at the top of this post and below was taken on our recent trip and proved to be my favourite images of our whole trip. Not just because I was there with my daughter but because I am trying to train myself and her not to be too upset about the weather. This was a stormy day which won't give you the iconic clear landscape you envisage, but offers superb moody landscape. The only hope is not being completely clouded in. My only advice is to keep checking webcams and if the clouds become patchy its worth heading down. As with all landscape photography I find, the less of a chance with weather you have, the greater the result could be.
We took a short walk to the Dove Lake boatshed which is an iconic and well recognised building and well worth walking around. It provides the classic Australian alpine landscape scene. I wanted to head to Marions Lookout and Crater Lake but that will have to be for another trip…and article! As we started to return to the shuttle bus I could sense a warmth to the light and sudden brightening. Then for 30sec the landscape was bathed in beautiful evening light that was everything I could have hoped for. Though the peaks Cradle Mountain weren't fully visible, the slight cloud cover I feel gives a depth and surrealness to the image. Just as I had said to my daughter "its all about the light", we were presented with it. A day so stormy gave us this magical ending. It was like a gift from God and after 2 weeks of intense photo taking, I got my favorites here in 30 seconds.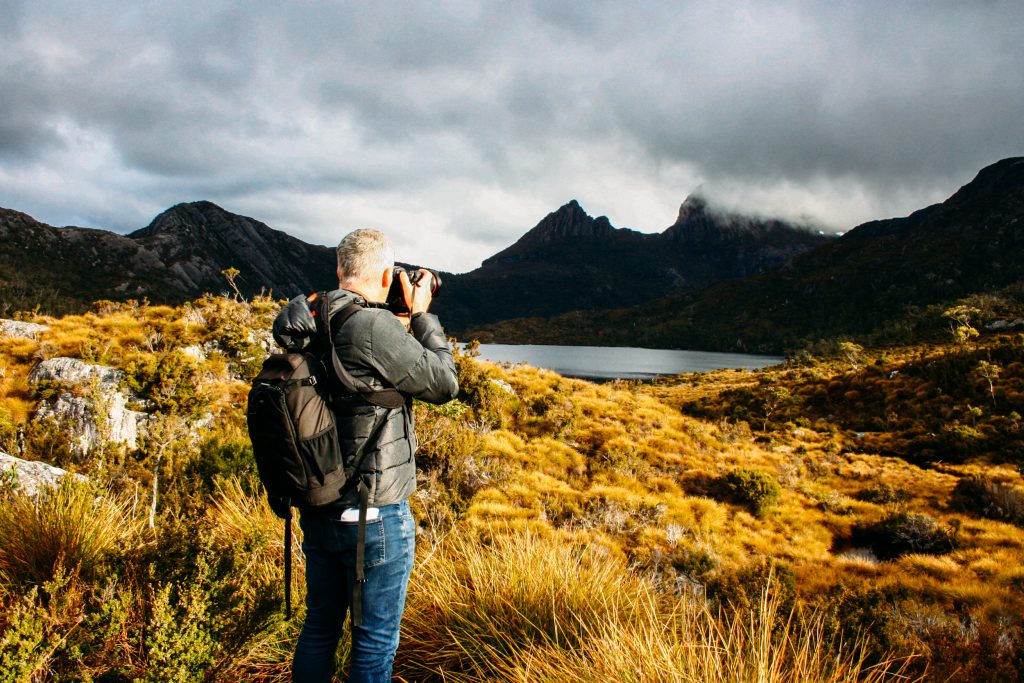 The Dove Lake Circuit walk is an easy 6km and well worth doing with family. Although I don't think offers the greatest of photo ops. It would appear that the Crater Lake Circuit and Marions Lookout hikes are far superior. The compositions available easily from Dove Lake visitor centre (opening in 2023) are excellent. It is well worth taking a tripod and ND filter to capture the rock detail in the water for some foreground interest. For this trip I did not have a tripod due to the shuttle bus timing. I was however able to use the excellent ability for the new Canon R5 to shoot at far slower shutter speeds with the inbuilt stabilization. I would never not recommend a tripod as I believe it aids composition as well as slow shutter. But the latest mirrorless cameras truly enable you to shoot at around 1 sec and maintain a sharp image. It really is a gamechanger. So shooting handheld I attempted to gain as much depth of field and reflection as possible and you can see the result.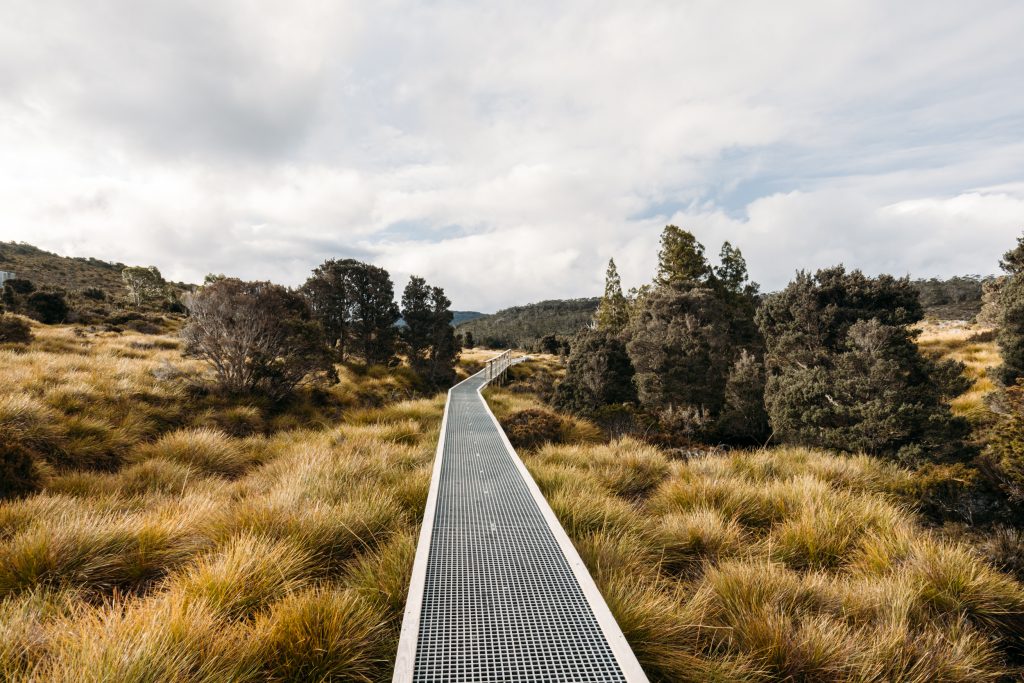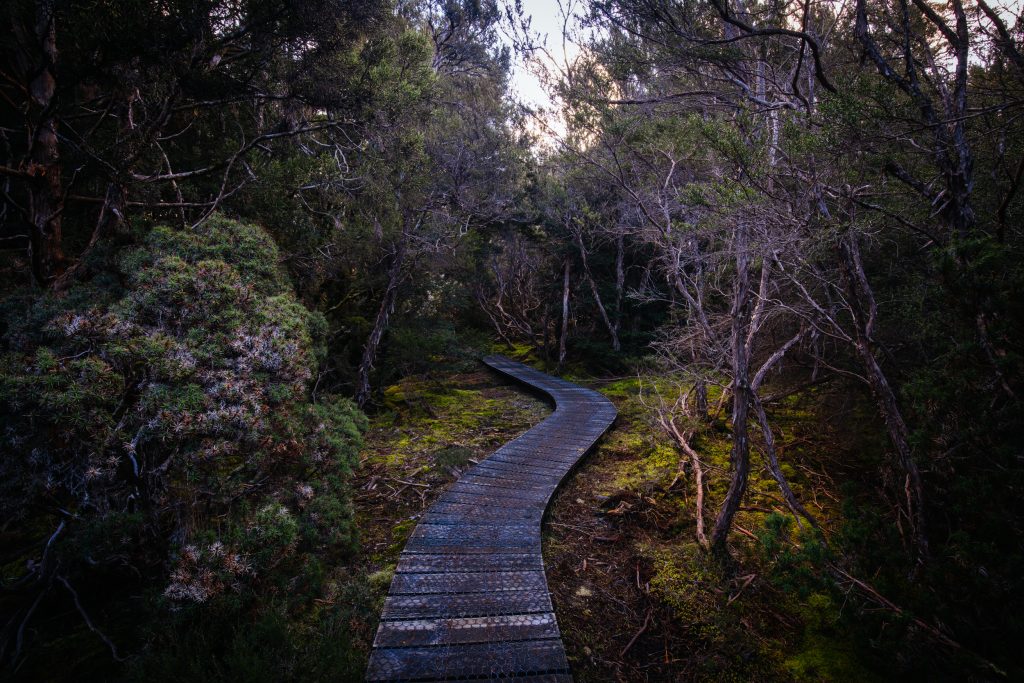 A must do at Cradle Mountain is the Enchanted Walk which leaves from the Lodge. It is now a very stable boardwalk that is perfect for families, and younger children. It offers spectacular moss laden trees and a gentle flowing river. It is quite dark in spots so ensure you take a tripod. I would recommend doing early in the morning and it gets quite busy.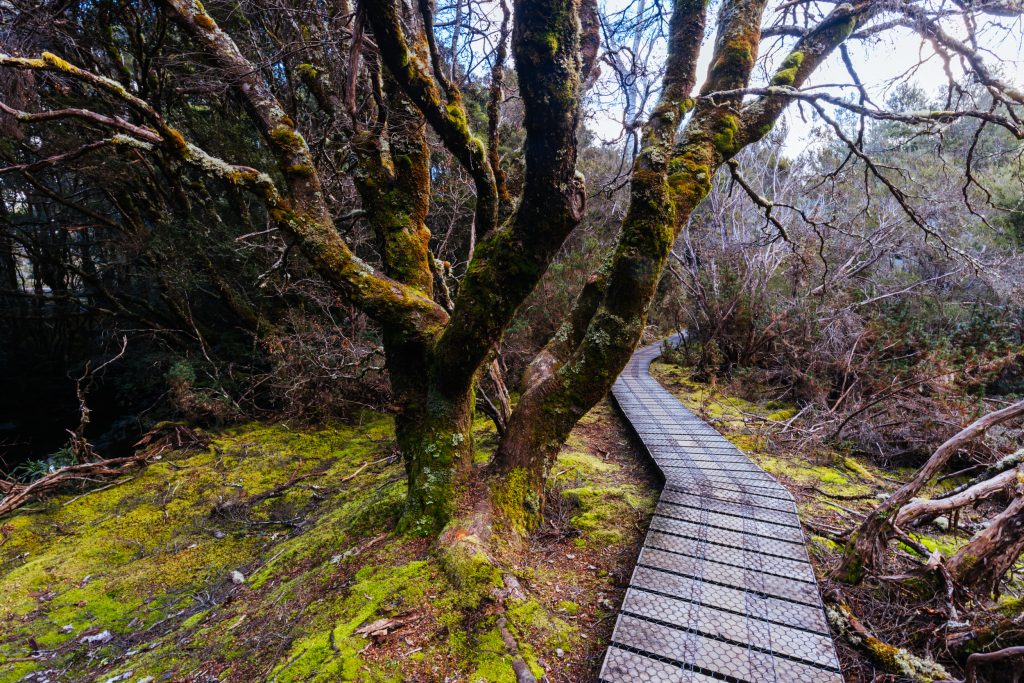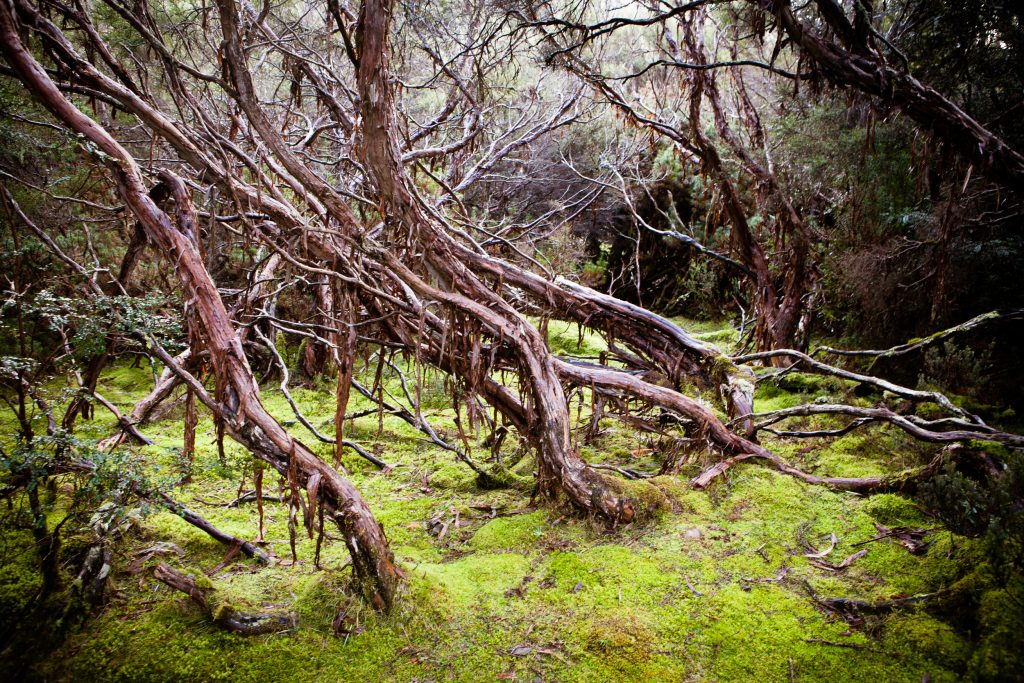 Devils @ Cradle
One of the best things to see at Cradle Mountain is Devils @ Cradle. If the weather isn't kind this is a great place to still visit. It is a primarily Tasmanian Devil sanctuary, but also has endangered quoll species. It is well worth learning about the plight of the Tasmanian Devil and observing their hilarious habits as they chase each other constantly with a truly unique squealing sound. There are many opportunities to photograph the animals and id recommend any lens around 100mm and F2.8. It can be a bit dark in the trees and the Devils move fast. At feeding time, the magnificent local Currawongs try to steal the food and its fairly chaotic. But a great chance to be up close and personal to some wildlife.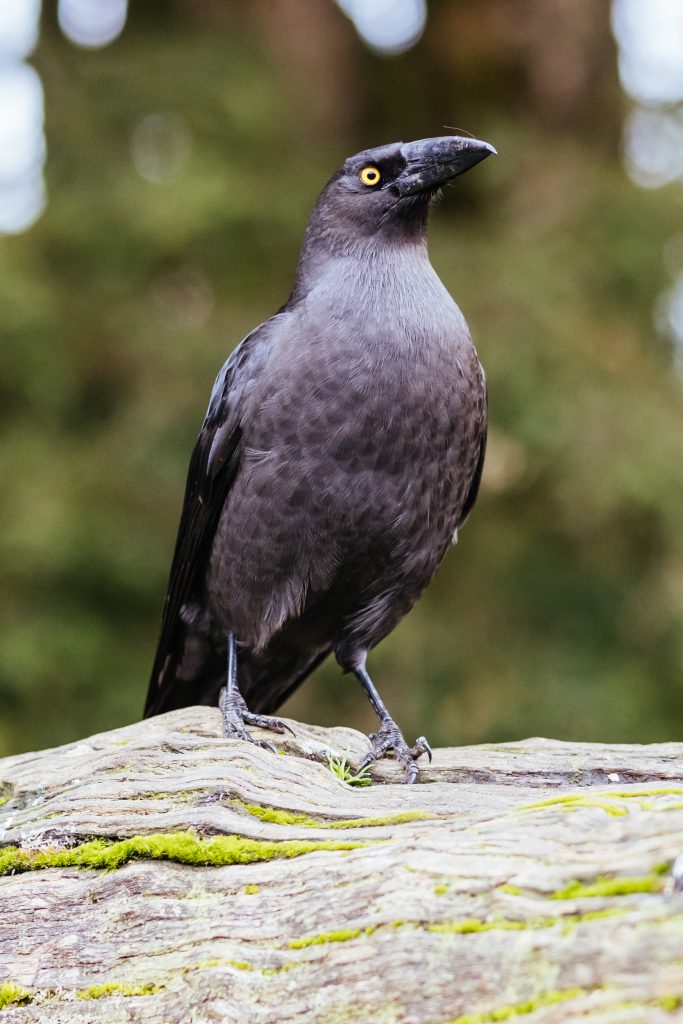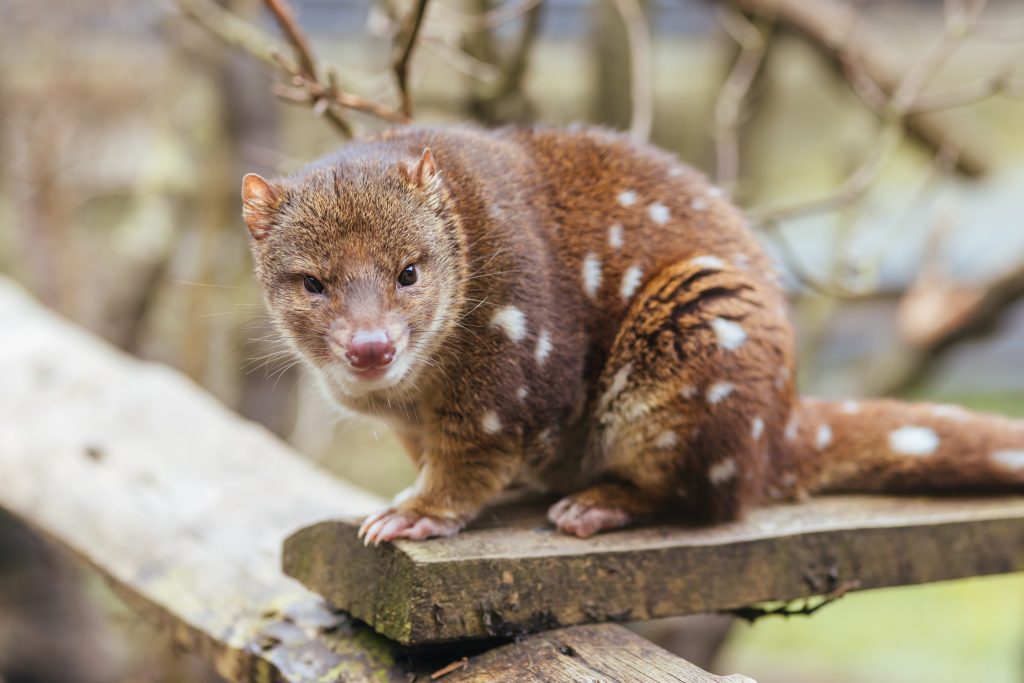 Cradle Mountain Lodge is a fantastic place to stay and eat, although I have only done the latter. We finished our trip by having snacks and hot chocolate in front of a big fire. Perfect! There is an excellent gift shop nearby that is in a patch of grass that is well frequented by wombats. Every time I have been there, I have seen one.
I need to make a special mention of the amount of wildlife in Cradle Country. You are very likely to see wombats, pademelons and wallabies. Have your camera ready! We drove back to Devonport at dusk and saw not a single car, and for good reason. It is very dangerous with the sheer amount of wildlife. We drove at 50km/hr (100km/hr speed limit) for over an hr as at any one point we could count over 10 animals. 90% hop away but several times they hopped and stopped on the road. We had to bring our car to a stop. If we didn't, we would have hit many animals. As an animal lover I didn't want to ruin the end to our holiday having killed something in a car with my daughter. I also think that as photographers there is somewhat of a duty to respect nature as we have enjoyed it by taking photos. I cant imagine photographers would think any other way to be honest. But I can't stress enough how much wildlife there is generally in Tasmania and to drive slowly and out of dusk/dawn times if possible.
Images seen here and many more can be found, and purchased in print/product format, or digital download