LOCATION – ULURU – AUSTRALIA
Introduction
Uluru, sometimes referred to as Ayers Rock, is a simply stunning Australian landmark that you should try your very best to visit. Situated in the south west corner of the Northern Territory, right in the middle of Australia, this area is the definition of remoteness, yet it is easily accessible and serviced. If you do come to Australia, then it's well worth a few extra days (and some cash) to visit Uluru. Driving to Ularu across the outback from any of the other Australian States would be the ideal way, however, the sheer distance, multiple accommodation costs and fuel, make this impossible for most. Flying into Alice Springs and driving the 'short' trip of 6hrs is what most do, despite the high costs of flights.
Please try to avoid the generic bus tours from Alice Springs that 'do the Rock' in a day. It isn't that sort of place. I had 4 days here and was just scratching the surface. The bus tours, are of course convenient and will do the main sights at the right times but photographers often find these tours very limiting and you don't truly experience a place.
Essentials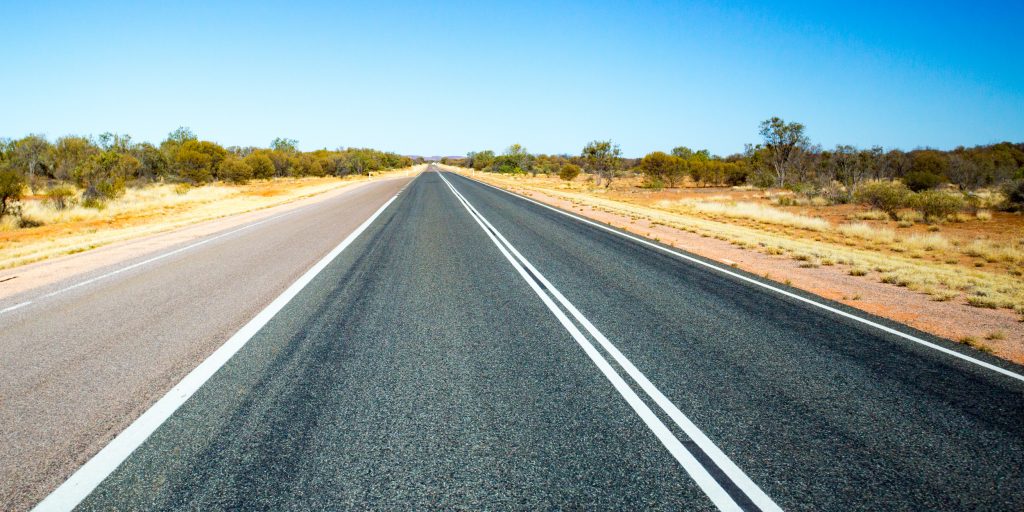 Content
The drive from Alice Springs to Uluru is an enjoyable one, albeit a little long. I always imagine that to the international tourist, the wide open expanses of land would be even more awe inspiring than it is to myself. Very few places in the world would you travel to for the reason being that there is little to see. The sheer isolation is an experience in itself. That being said, the Stuart Hwy to Adelaide is reasonably busy as is the turnoff down Lasseters Hwy to Uluru. There are numerous opportunities to get the cliche outback image. Long roads with a heat haze at the vanishing points, awesome signage and road trains. Oh road trains. I love them. I drove the family crazy spotting them from a long way away, quickly slowing to a stop at the side of the road with camera ready and shooting them. Awesome pieces of machinery and an absolute icon of the Australian outback. As this is a major trucking route you will see a few in the 6hrs drive you have to Uluru.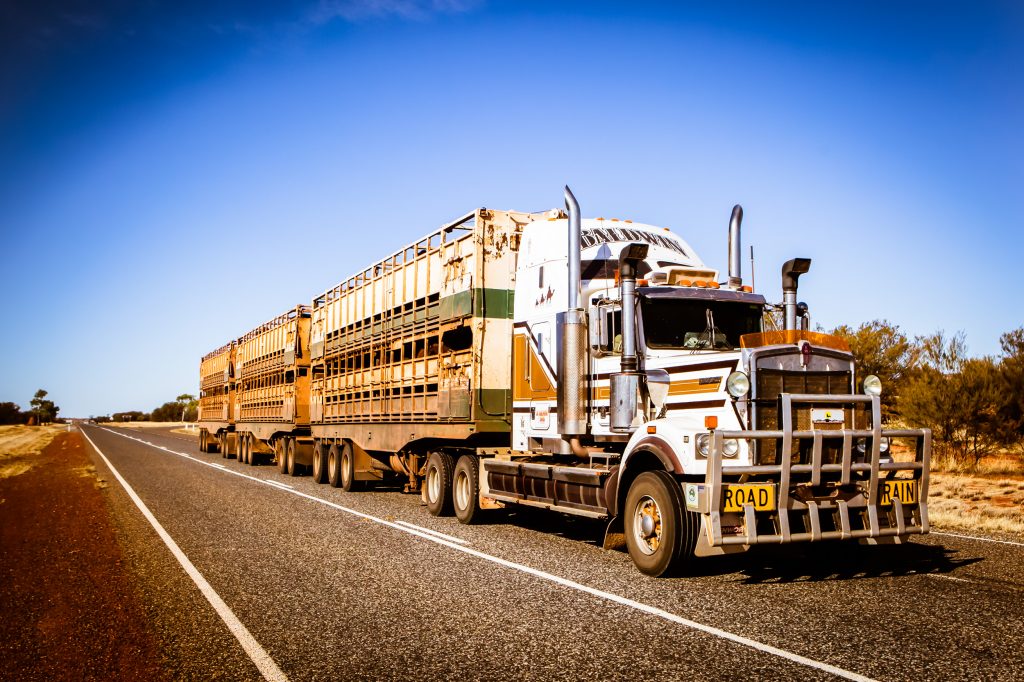 The turnoff from the Stuart Hwy to the Lasseters Hwy is at a roadhouse/town called Erldunda. You would be well advised to queue for fuel and supplies, along with every other person in the area. Let your other half mind the vehicle, as you take some photos of this iconic landmark. You didn't read that here though OK? Great signage and a classic Australian roadhouse.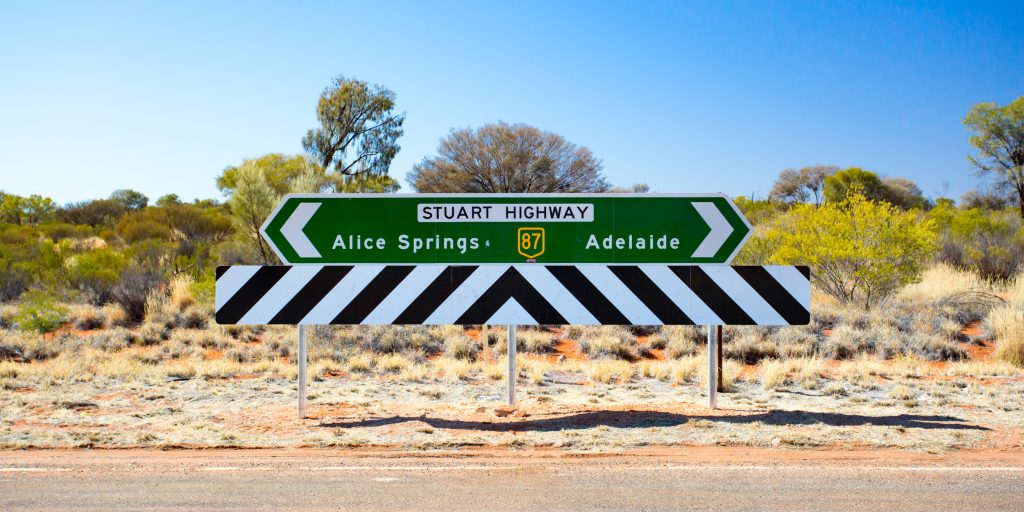 About 2hrs from Erldunda you will see Uluru. Well you think you will. It is in fact Mount Connor. Take a shot but don't send this to your friends and family claiming its Uluru.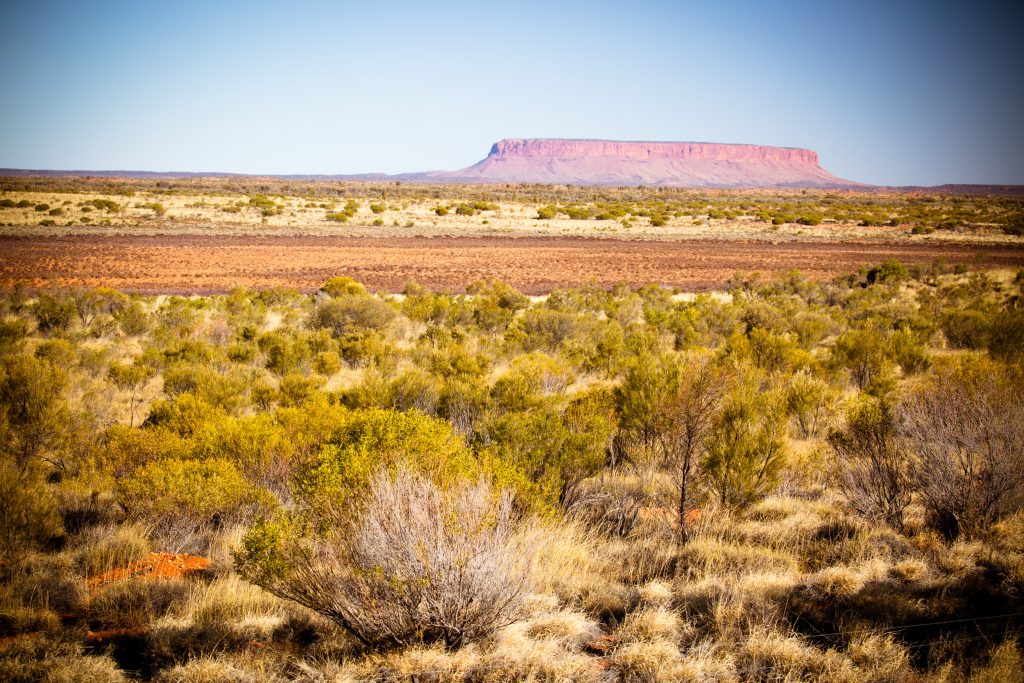 Our family used a motorhome for our trip and it's a great fun way of travelling, albeit with its challenges. Driving is a little scary if you're not used to it. It's very noisy. All those plywood kitchen cupboards and tables move with every bump and how they stay in one piece I will never fathom. Along with the hire charges motorhomes are costly to run, and even campgrounds cost around $50 a night so it doesn't take long for you to start calculating costs similar to a sedan rental and hotel, as you bundle thru the wilderness at 100km/hr for hours on end. However these thoughts dissipate when you can park in the most spectacular spots and make dinner or grab a coffee on the run.
Many of the signs around Erldunda have the marks of tourism, or perhaps there are kangaroos on skateboards wearing top hats in the outback?! Look for stickers from the UK, bullet holes or simply Vegemite jars in a tree!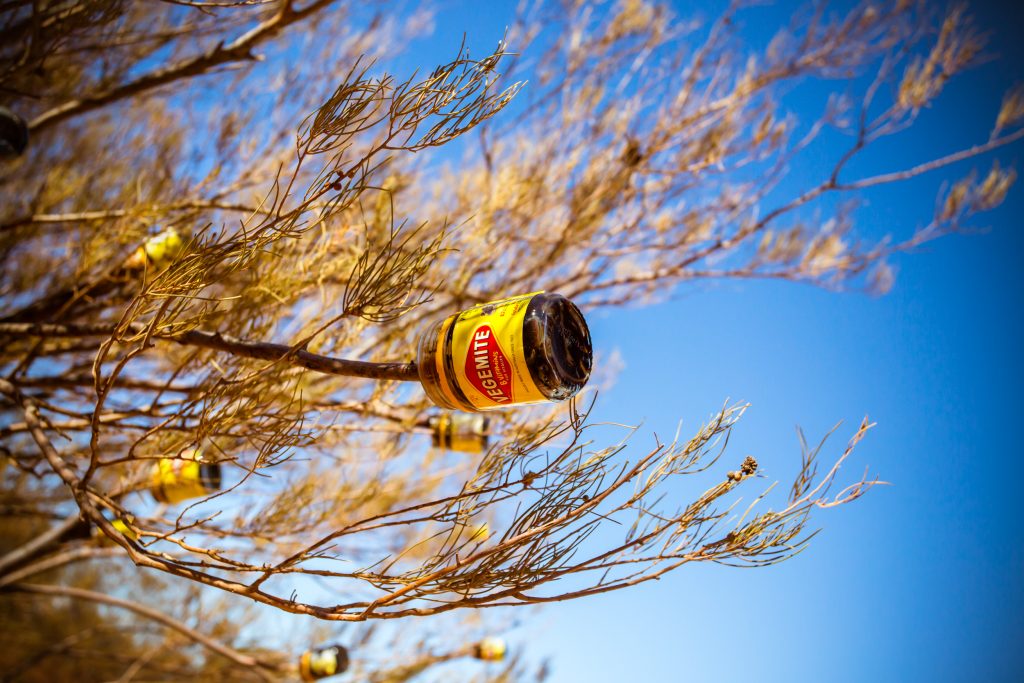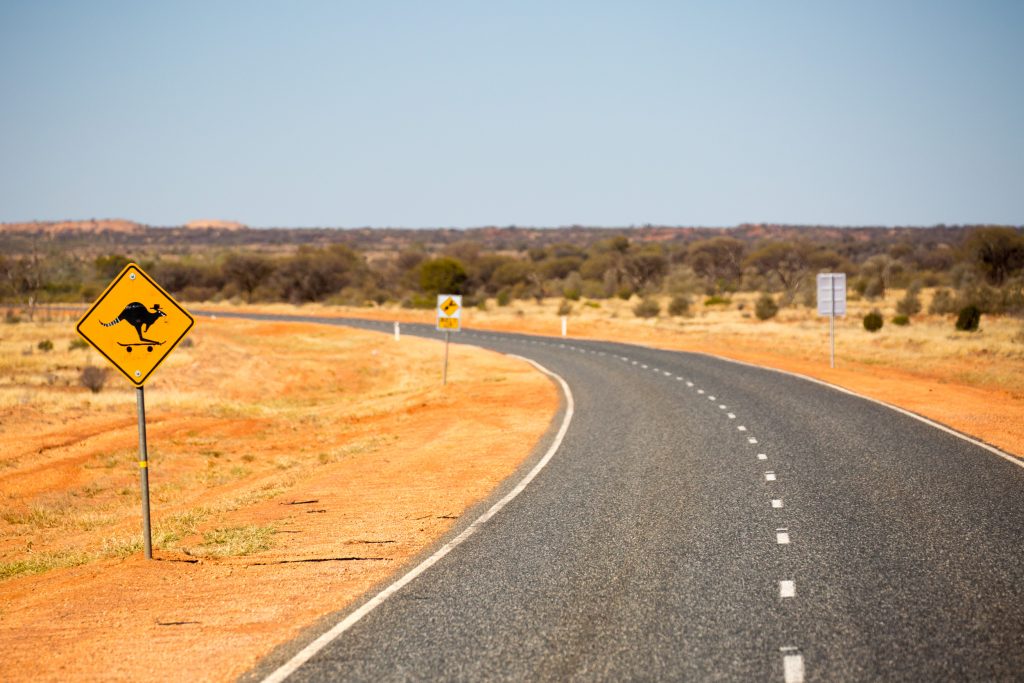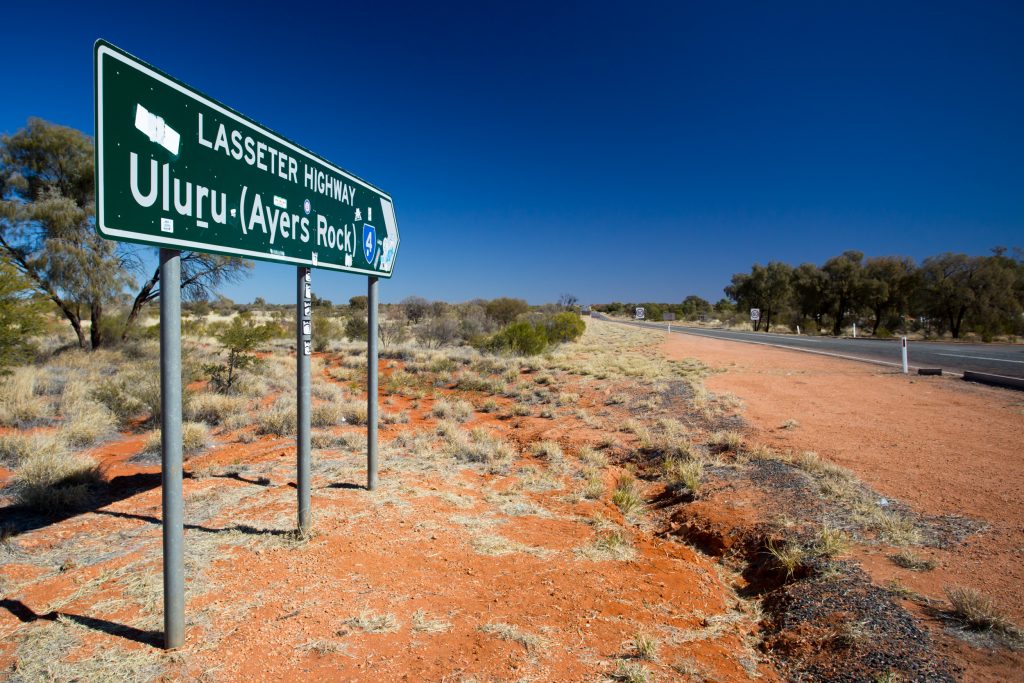 I spotted this Australian Wedge-tail eagle eating a dead kangaroo by the side of the road. Fairly gruesome but fascinating, I was able to walk within maybe 20m before it flew away.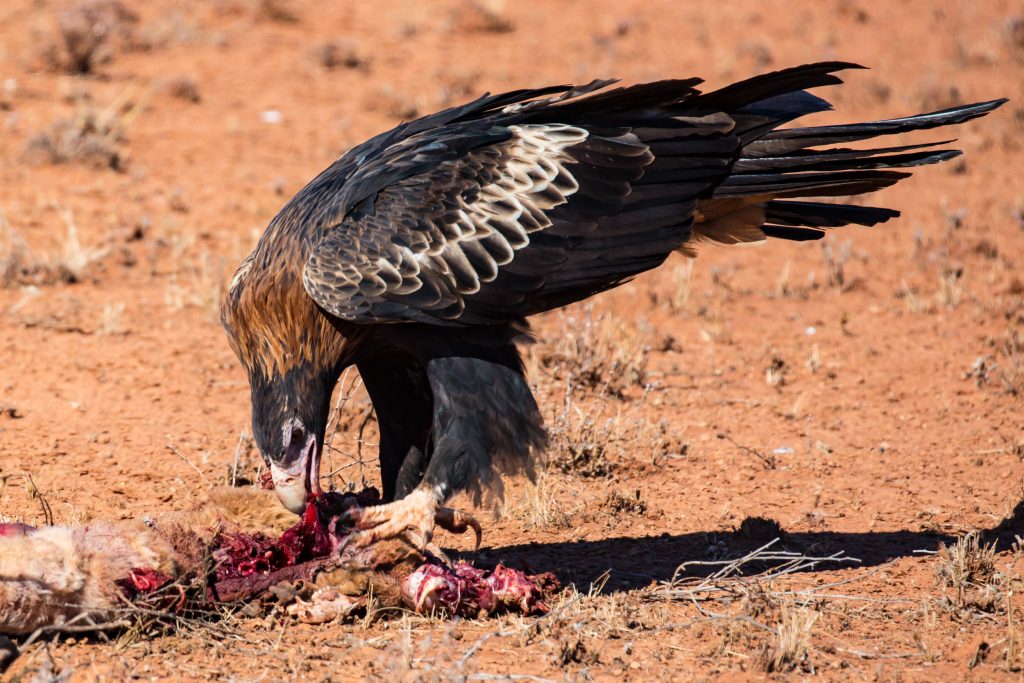 Overall motorhomes are great fun with a family and I do recommend them. However I'm leaving out one major detail that will hurt any photographer travelling with others. Imagine telling your travelling companion that you plan on waking up at 4.30am to catch the sunrise for the 3rd day in a row. They might say fine 'don't wake me', but you are in a motorhome. That means the whole house is being disconnected from mains power, water and backed thru a tight campsite in the dark. Reverse beepers blaring included. This generally makes for an upset family when the kids also need waking to be strapped into their seats. Drama level 9/10. Only not a 10/10 as we didn't breakdown as well. The beautiful view generally takes things back to normal…until the kids get grumpy at 3pm as they've been up since 4.30am! Extra note of advice for the keen photographer. Gain some "brownie points" and tactical work towards your next sunset/sunrise mission by taking kids out whilst your partner fits in an afternoon sleep. At Photo Basecamp you don't only get photography advice!
Uluru is heavily geared towards the famous sunrise and sunset times. The designated areas cater for literally thousands of people and I highly recommend getting there early. For sunset we arrived about 2hrs before and were very early but it enabled us to have a drink and nibbles as the sun descended around us. Tick great lifetime moment.
As photographers, we always search for alternate views and ideas, however you must take photos at the sunset viewing area. It's clichéd but you won't find a better spot to capture the light easily (and legally). I recommend a tall tripod and even some form of platform if you could manage it. There is fantastic foreground plant life that by eye is nothing special, but makes for a fantastic photo. Spend some time pacing back and forth looking for the right composition of plants and trees in the foreground. I didn't feel that I had to do anything special photo wise. My usual combination of ND filter and grad and a long exposure about 20 mins after sunset. With landscape photography, there is usually this tight window of perfectness and Uluru was no different. That combination of the elements of sky, light and colour all fall into place. Unlike the northern hemisphere the sun sets very quickly in Australia.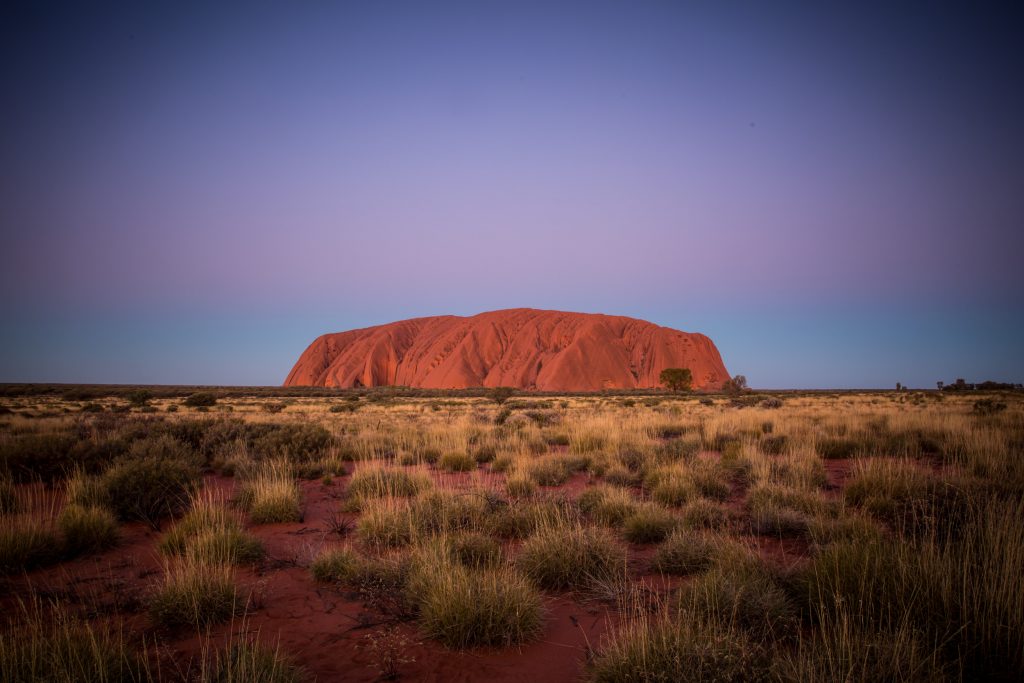 One night whilst I was travelling to sunset viewing I came across a magical spot that produced one of my favourite images.I climbed a short distance to the lookout which is clearly marked, but often missed. Here you have a fantastic view of Uluru. As I was there, a camel tour crossed my view and made for a stunning scene. Although to sell from here you must crop the left edge as it's a sacred area. After sunset from this location you get a great silhouette of Kata Tjuta(The Olgas) and the plant life around the area.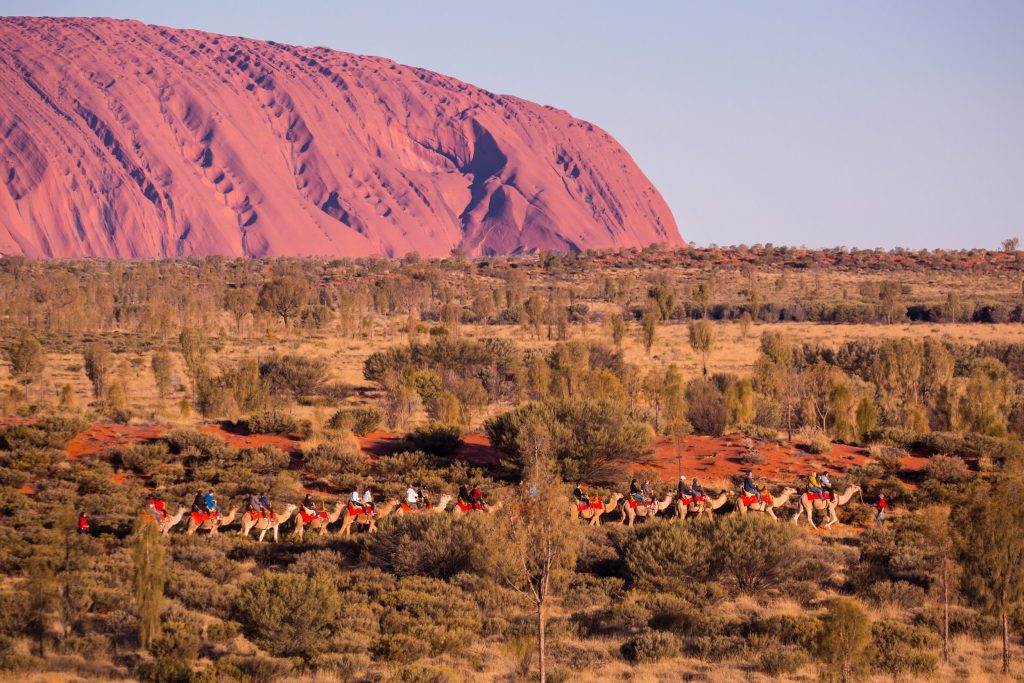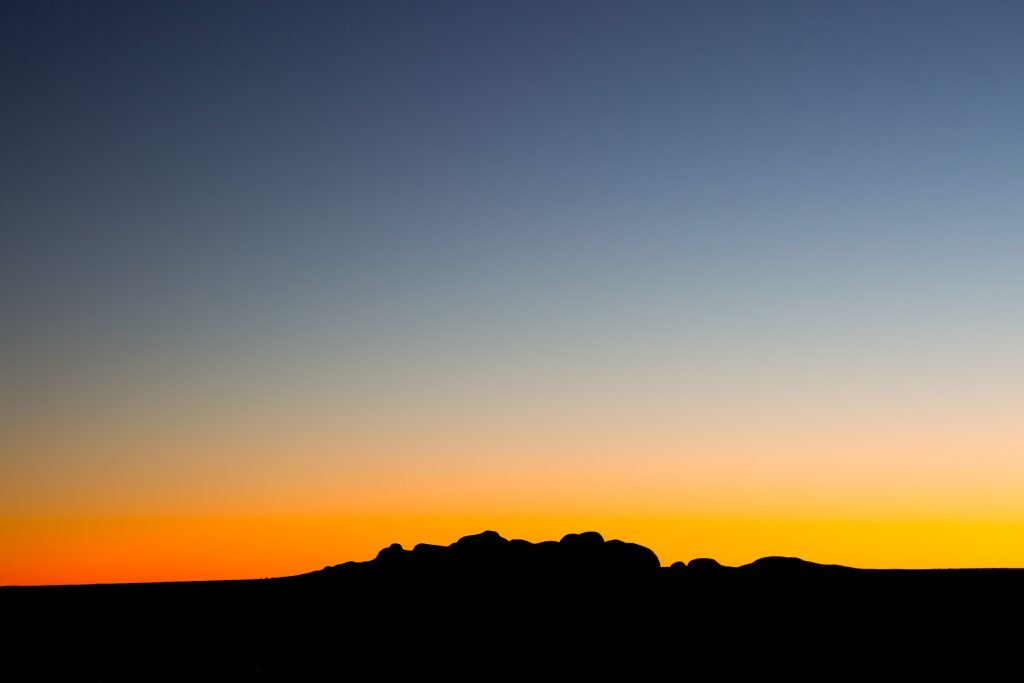 The sunrise viewing area is the most extravagant. Room for thousands of people and multiple layers of wooden built structures to get that magical first light on Uluru. It's a great scene, though I must admit photographically, I didn't like it as much as sunset. Maybe I didn't 'perfect' it but I felt that it was more of a 'bucket list' item than for actual its photo qualities. Purely my view of course.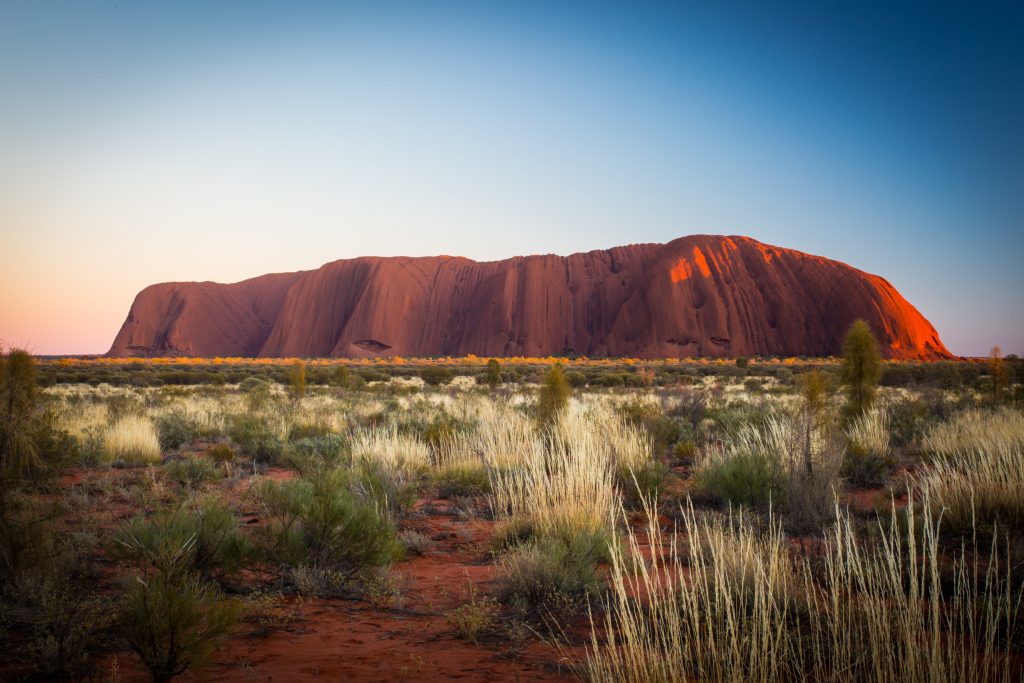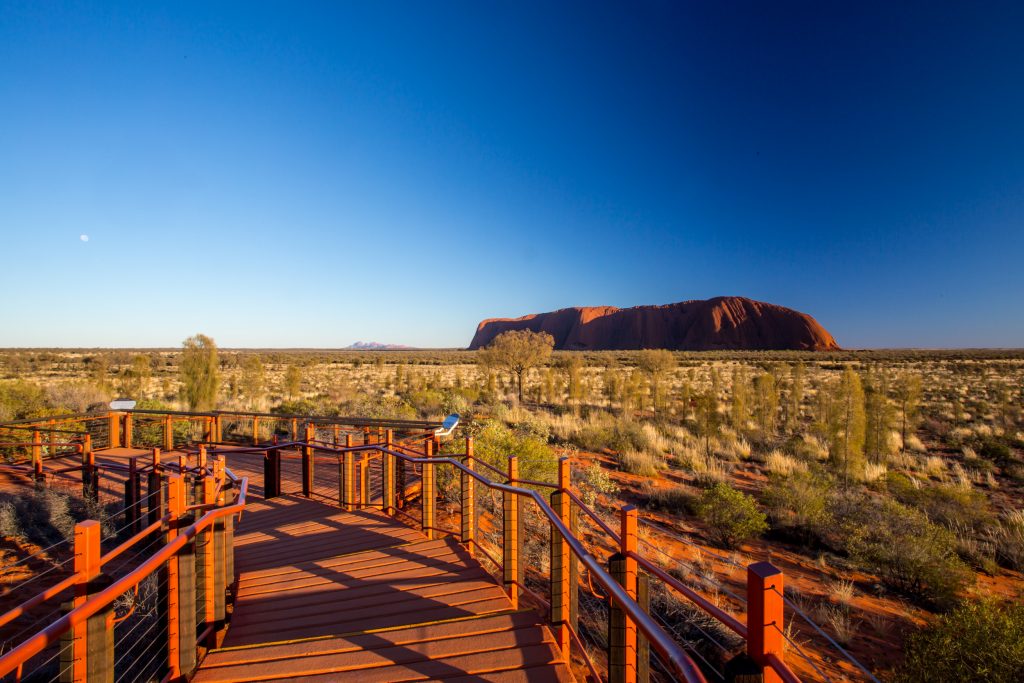 Mala Walk – I can't recommend highly enough joining the guided Mala tour. Don't be off put by the 3hr duration. Our 3 and 5 yo enjoyed the tour from beginning to end. Our superb guide explained lots of features around the Rock, aboriginal history and had kids drawing symbols in the sand. Photo opportunities include close-ups of the rocks and vegetation. Not a must do for the photographer, but great for the family and some dedicated learning never hurt anyone. Explanations on the tour of the sacred sites and photo warnings leads me into the next part.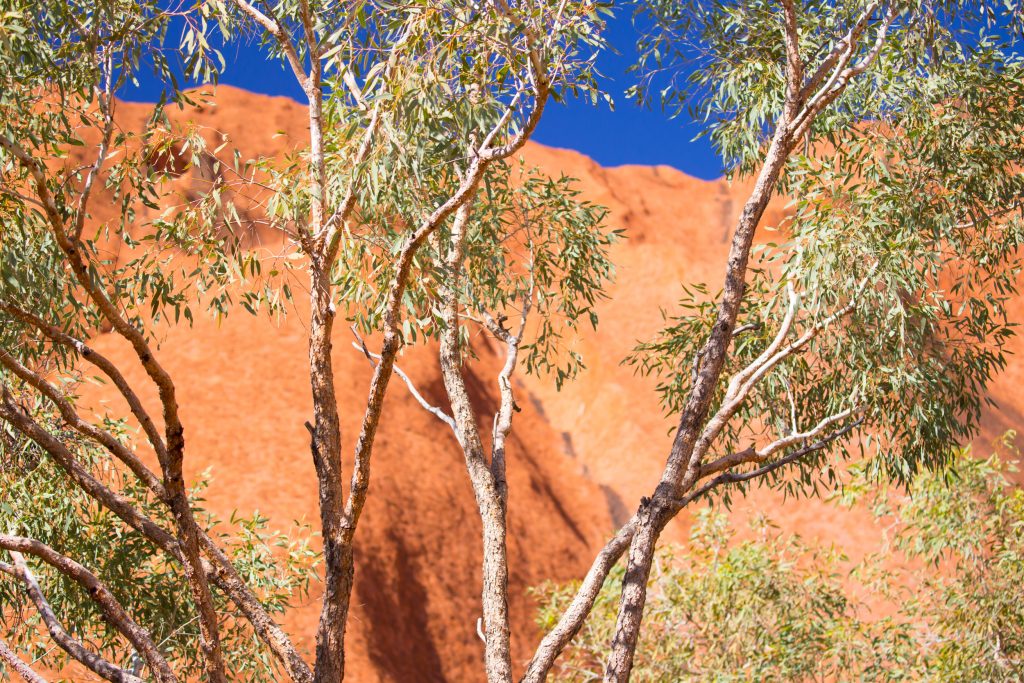 Uluru is heavily limited in where you can take photos and go. Please abide by these laws as they are in place to protect the Aboriginal beliefs that parts of the rock should not be simply photographed and taken away. It is a sacred place and one where witnessing first hand is the only option in Aboriginal story telling.
I will also make a plea to not climb the rock. I did as a kid on a school trip in 1995, but did not more recently with my family. There is a heavy push to stop climbing all together for many reasons. Three stand out to me. It is a sacred place and not to be trodden on to simply claim that 'you have climbed the rock'. Two it is incredibly dangerous as the winds are very strong at the top and there is no way to stop yourself if you slip. Three, there is significant environment damage as people leave rubbish and defecate at the top (no toilets). We saw first-hand how this is affecting the plant life around the rock. So there you have it. You can climb, but it isn't encouraged. Doing my part for the elders of the land!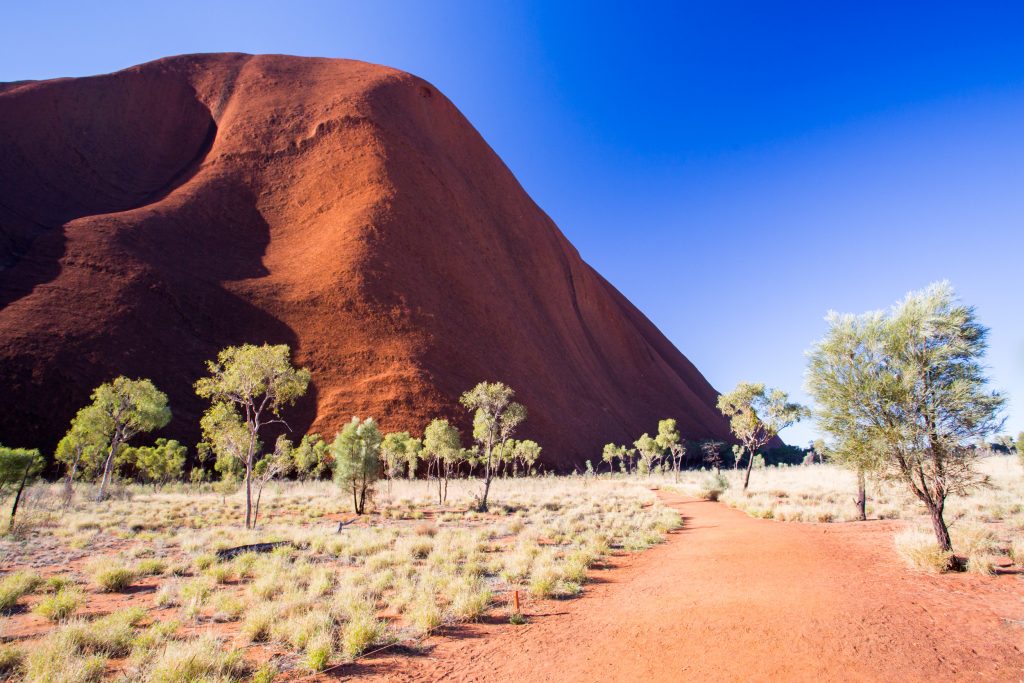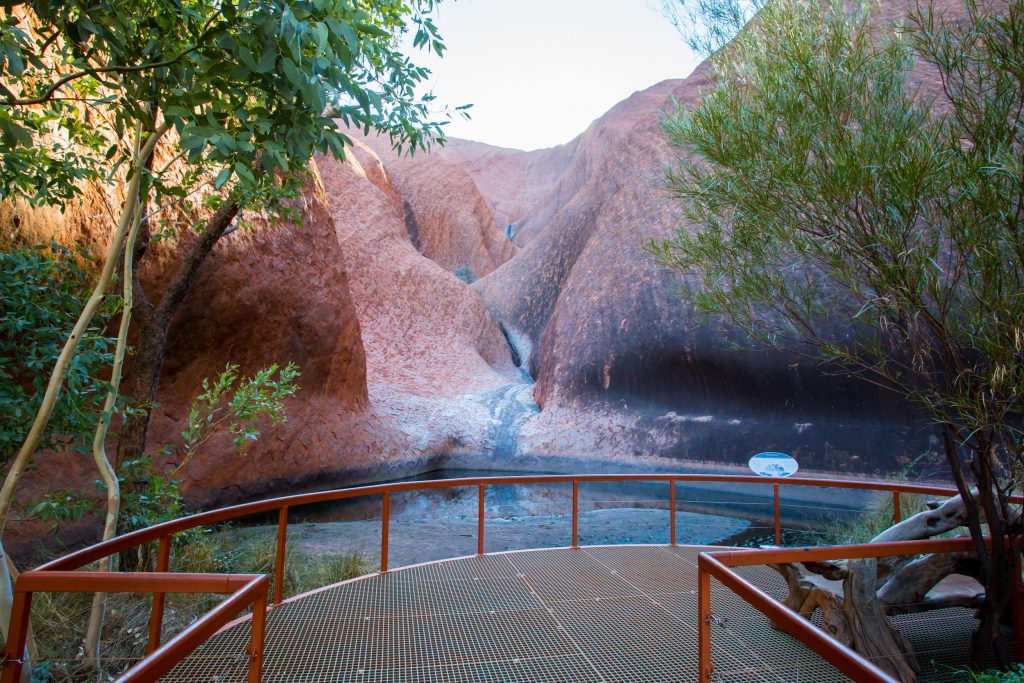 Last but not least, if you are more serious and thinking of placing images for sale anywhere then you must get a photography permit. It cost me $80 in 2015 and was a painless process. It's a very well organized process with clear instructions. This isn't bureaucracy or paper pushing. It's a valid resource and I was more than happy to pay this fee for the knowledge, help, and approvals which I received.
Uluru Images
[envira-gallery id="7692″]